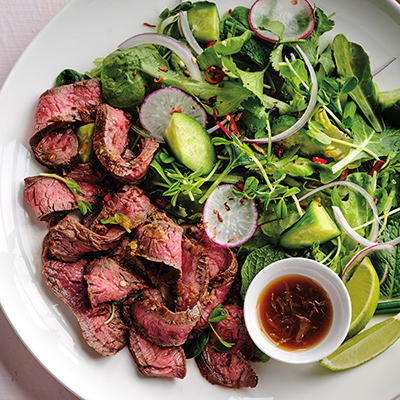 Ingredients
Serves 2 to 4
1 tsp (5 ml) minced garlic
1 to 2 Thai chilies, thinly sliced, or to taste
2 tsp (10 ml) minced cilantro stems
3 tbsp (45 ml) lime juice
1 tbsp (15 ml) orange juice
1 tbsp (15 ml) fish sauce
3 tsp (15 ml) vegetable oil, divided
8 oz (250 g) flank or skirt steak
2 baby cucumbers, cut into chunks
2 cups (500 ml) mixed greens
1 small handful cilantro leaves
2 radishes, thinly sliced
Instructions
Using a mortar and pestle, small blender or mini food processor, crush or blend sugar, garlic, chili and cilantro stems into a paste. Mix in lime juice, orange juice, fish sauce, 1 tbsp (15 ml) water and 2 tsp (10 ml) vegetable oil.
Marinate steak in half of the fish sauce mixture (set other half aside to dress salad) for at least an hour, and up to overnight, in refrigerator. The longer you marinate, the more flavourful and tender your steak will be.
Remove steak from marinade and pat dry. Allow to sit at room temperature for 1 hour.
Preheat oven to 350 F (180 C).
Heat remaining 1 tsp (5 ml) oil in a grill pan, or heavy-bottomed ovenproof frying pan, over medium-high heat. Sear steak for about 2 minutes per side, then transfer to oven. Roast for about 8 to 10 minutes, or until it reaches an internal temperature of 130 F (54 C). Remove steak from oven and allow to rest on a plate for 10 minutes. Slice thinly against the grain.
In a bowl, toss remaining ingredients together and arrange on side of a serving platter. Lay steak on other side. Drizzle with dressing and serve with additional dressing on side.
Drink Pairings