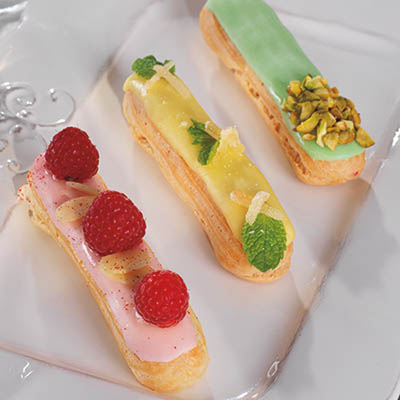 Ingredients
Serves 24
1 x Basic Choux Pastry (make ahead, see BASIC CHOUX PASTRY RECIPE)
food colouring, colour and quantity as needed
⅓ cup (75 ml) granulated sugar
Pistachio, Raspberry or Lemon Flavouring
6 tbsp (90 ml) unsalted butter, cut into small pieces
⅓ cup (75 ml) pistachio paste
3 oz (90 g) raspberries, puréed and strained
1 tsp (5 ml) almond extract
½ cup (125 ml) strained lemon juice
1 tsp (5 ml) ginger syrup
Instructions
Prepare BASIC CHOUX PASTRY as per Master Recipe up to step 4. Place dough in a pastry bag fitted with a ½-in (1.25 cm) plain tip (or Wilton 4B1 tip that will produce ridged éclairs). Pipe éclairs 4-in (10 cm) in length directly onto a baking sheet lined with parchment paper. To help with size, draw stencils on parchment and place, drawn-side down, on baking sheet. Bake éclairs for 15 minutes or until well puffed and golden, then lower oven to 325 F (170 C) and continue to bake another 30 minutes, or until golden. Cool completely on baking sheet. Will keep for 2 to 3 days in refrigerator in a covered container.
Prepare ÉCLAIR FILLING: In a medium saucepan, over medium heat, whisk together eggs and sugar until light in colour.
Depending on flavour preference, add one of either pistachio paste, strained raspberry purée or strained lemon juice to the saucepan. Add cut butter and whisk constantly until butter is melted and mixture is thick. Simmer gently for a few seconds. Pour into a fine meshed sieve set over a bowl. Then, for pistachio flavouring stir in vanilla, for raspberry stir in almond extract, and for lemon stir in ginger syrup. Cover with plastic wrap pressed into surface of filling to prevent skin from forming, and refrigerate to thicken.
Pierce bottom of éclairs in 2 or 3 places and fill with desired prepared filling using a piping bag.
To make GLAZE: Heat 10 oz (300 g) fondant in a heavy-bottomed saucepan over low heat just until melted. Stir in food colouring, as desired. Dip éclair tops into fondant, removing excess. Alternately, buy coloured fondant and roll out into a thin sheet. Cut size to fit éclairs and press down to adhere.
Decorate as desired.
Drink Pairings