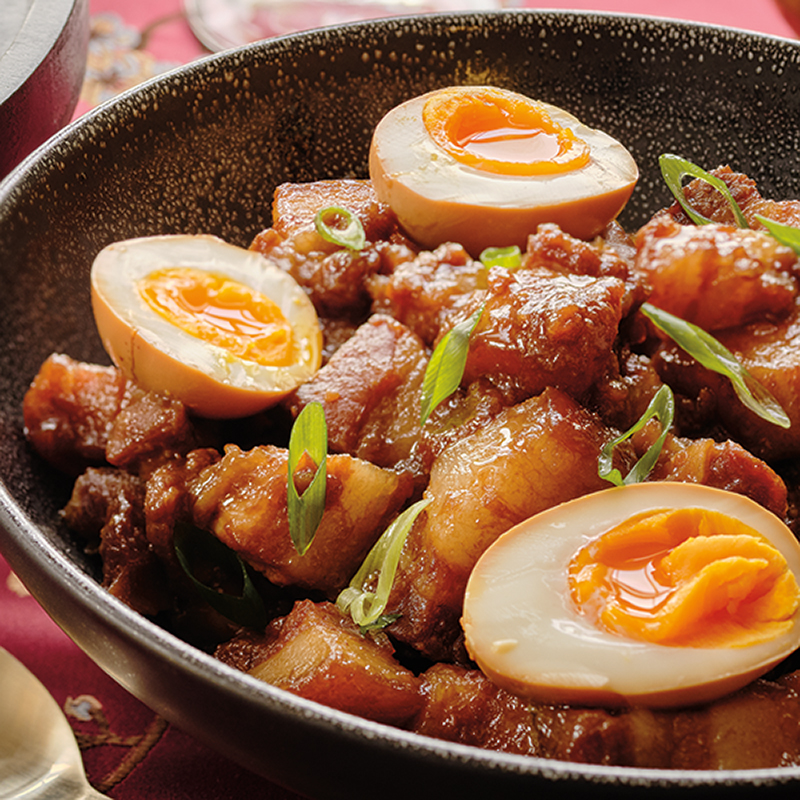 THIT KHO VIETNAMESE BRAISED PORK & EGGS
A multicultural potluck to celebrate Lunar New Year.
Ingredients
Serves 4 to 6
2 lbs (1 kg) pork belly, cut into 2-in (5 cm) cubes
3 tbsp (45 ml) fish sauce
1 tsp (5 ml) freshly ground pepper
1 x 17½ oz (520 ml) can coconut water
4 eggs, medium boiled, peeled and halved
2 bird's eye chilis, sliced
Instructions
In a heavy-bottomed saucepan, heat palm sugar over medium heat until melted. Stir and continue heating until golden brown and caramelized, about 5 to 8 minutes.
Carefully add pork and toss until sugar has dissolved. Add shallots, garlic, fish sauce, soy sauce, pepper and coconut water. Bring to a boil and reduce heat to a simmer. Cover and continue cooking for about 1 hour or until pork is just tender.
Remove lid and continue cooking for another 20 to 30 minutes, or until sauce has reduced and thickened. Transfer to a serving bowl and garnish with eggs, chilis and green onions. Serve with jasmine rice.
Drink Pairings