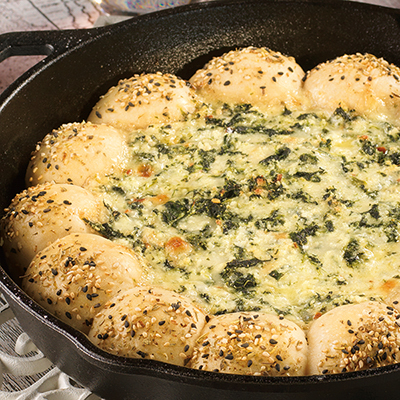 THREE CHEESE AND SPINACH DIP
Ingredients
Serves 8
1 lb (500 g) premade pizza dough
1 tsp (5 ml) sesame seeds
½ tsp (2.5 ml) Italian seasoning
¼ cup (60 ml) grated Parmesan
1 cup (250 ml) freshly grated Mozzarella
5 oz (150 g) thawed chopped frozen spinach
2 tbsp (30 ml) mayonnaise
1 tsp (5 ml) garlic powder
1 pinch red pepper chili flakes, plus extra, to taste
Instructions
Preheat oven to 350 F (180 C).
Divide pizza dough into 13 equal pieces (about 1¼ oz (35 g) each) before rolling each into a ball and arranging in a ring around edge of an oil-brushed 8-in (20 cm) cast iron skillet. Brush dough balls with beaten egg and sprinkle with sesame seeds and Italian seasoning.
In a large bowl, stir together cheeses, spinach, mayonnaise, garlic powder, salt and chili flakes until well combined. Spoon dip into centre of skillet and sprinkle with extra red pepper chili flakes, if desired. Bake until dip is bubbly and bread is golden, 25 to 30 minutes. Serve hot.
Drink Pairings