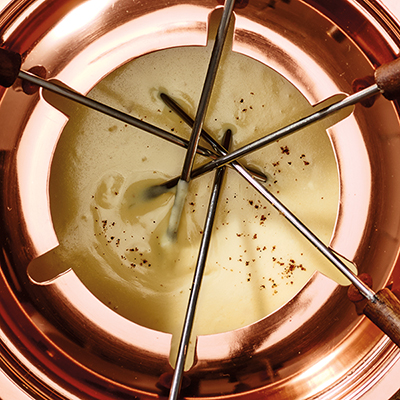 Ingredients
Serves 8
1 tbsp (15 ml) grapeseed oil
2 shallots, finely chopped
¾ cup (175 ml) dry white wine
1¼ cups (310 ml) whipping cream
8 oz (250 g) cream cheese
8 oz (250 g) grated Gruyère cheese
6 oz (180 g) grated Emmenthal cheese
1 pinch freshly grated nutmeg
bread, blanched vegetables, grapes, apples and pears, to serve
Instructions
In a medium saucepan over medium-low heat, heat oil. Add shallots and cook, stirring occasionally, until tender, 5 to 6 minutes. Add garlic and cook for 1 minute. Add wine and simmer until reduced to ½ cup (125 ml), 5 to 6 minutes.
Stir in whipping cream, cream cheese, Gruyère and Emmenthal. Cook, stirring constantly with a wooden spoon (so cheese does not scorch), until cheese is melted and mixture is smooth. Increase heat to medium-high and cook, whisking constantly, until steaming and pourable, 3 to 4 minutes. Stir in nutmeg and pepper.
Transfer mixture to a fondue pot and serve with desired accompaniments.
Drink Pairings