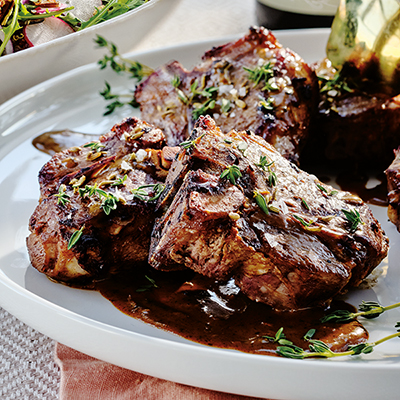 Thyme & Fennel Lamb Loin Chops with Creamy Pan Sauce
Ingredients
Serves 6
3 tbsp (45 ml) grapeseed oil, divided
2 tbsp (30 ml) lemon juice
2 tsp (10 ml) fresh thyme leaves, divided, plus extra for garnish
¼ tsp (1 ml) black pepper
1 tsp (5 ml) crushed fennel seeds, divided
¼ tsp (1 ml) kosher salt, plus extra to taste
4 minced garlic cloves, divided
6 lamb loin chops, each at least 1-in (2.5 cm) thick
1½ cups (375 ml) dry white wine
⅓ cup (75 ml) Dijon mustard
Instructions
In a medium bowl, whisk together 2 tbsp (30 ml) oil, lemon juice, 1 tsp (5 ml) thyme, pepper, ½ tsp (2.5 ml) fennel seeds, salt and 3 minced garlic cloves. Place lamb loin chops in shallow dish and pour marinade over. Massage marinade into lamb, making sure to coat all sides. Allow to sit at room temperature for 30 minutes.
Heat remaining 1 tbsp (15 ml) oil in a large skillet or cast iron pan over medium-high heat. With a spoon, gently scrape any bits of thyme and garlic off lamb that may burn during cooking. Place lamb in skillet, reduce heat to medium and cook until caramelized and golden brown on bottom, about 4 minutes. Flip and cook for another 4 minutes. Internal temperature should register between 130 F to 135 F (54 C to 57 C) with an instant-read thermometer; when taking meat's temperature, ensure thermometer is inserted into thickest part of meat and not touching any bone. Transfer lamb to a platter and allow to rest. Keep skillet over medium heat.
Add wine to skillet and bring to a boil over medium heat. Whisk in mustard and remaining 1 tsp (5 ml) thyme, ½ tsp (2.5 ml) fennel seeds and 1 minced garlic clove. Continue to cook at a hard simmer, stirring often, until sauce has thickened enough to coat the back of a spoon, about 2 to 4 minutes. Season to taste with additional salt. Return lamb to skillet, reduce heat to medium-low and spoon sauce over lamb chops to coat and just warm through, about 1 minute.
To serve, transfer lamb to a warm serving platter and spoon sauce over top. Garnish with more thyme leaves, if desired, and serve warm.
Drink Pairings