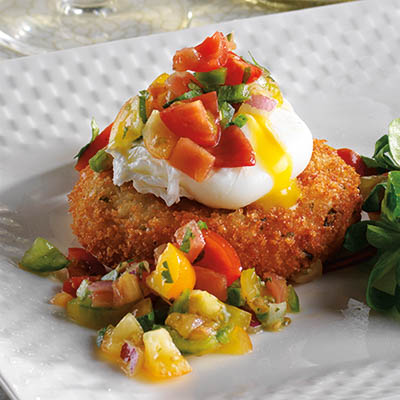 TOASTED RISOTTO CAKES WITH POACHED EGGS AND TOMATO SALSA
Ingredients
Serves
3 cups (750 ml) low-salt chicken stock
¼ cup (60 ml) finely minced onions
1 cup (250 ml) Arborio rice
⅔ cup (150 ml) finely grated Fontina cheese, divided
salt and freshly ground pepper, to taste
½ cup + 1 cup (375 ml) panko bread crumbs, divided
2 tbsp (30 ml) finely minced fresh basil
1 tbsp (15 ml) finely minced fresh chives
grape seed oil, for frying
small side salad, to serve (optional)
1 cup (250 ml) diced assorted red and yellow cherry and grape tomatoes
2 tbsp (30 ml) minced yellow onion
½ small jalapeño pepper, seeded and very finely minced
2 tbsp (30 ml) finely chopped cilantro
2 tbsp (30 ml) lemon juice
2 tsp (10 ml) finely minced fresh oregano
salt and freshly ground black pepper, to taste
Instructions
For RISOTTO CAKES: Heat stock in a saucepan until warm. Cover and turn off heat.
Heat olive oil in a heavy-bottomed saucepan. Add onion and sauté until soft, about 4 minutes. Stir in rice until coated. Add stock, ⅓ cup (75 ml) at a time and stir in until absorbed. Continue to add stock until all is absorbed and rice is creamy, about 18 to 20 minutes. Remove from heat and stir in ⅓ cup (75 ml) Fontina cheese. Add salt and pepper to taste. Spray a 9 x 13-in (3 L) pan with cooking spray. Spread risotto in prepared pan, cover and refrigerate until completely cooled.
In a large bowl, combine ½ cup (125 ml) panko bread crumbs, remaining ⅓ cup (75 ml) grated Fontina, basil, chives and 1 egg, whisked. Add cooled risotto and work in with your hands until evenly mixed. Shape into 4 even-sized patties about 2½-in (6 cm) in diameter. Place on a parchment-lined baking sheet.
Place remaining whisked egg in 1 shallow bowl and remaining 1 cup (250 ml) panko bread crumbs in another. Dip risotto cakes into whisked egg and then roll in bread crumbs to thoroughly coat. Place on a parchment-lined baking sheet. Refrigerate. Can be made a day ahead.
Combine TOMATO SALSA ingredients in a bowl. Toss together to evenly blend, adding salt and pepper and a splash of liquid honey to taste. Cover and refrigerate until ready to serve. Can be made a day ahead.
To cook Risotto Cakes, preheat oven to 200 F (95 C). Using a heavy-bottomed 12-in (30 cm) frying pan, such as cast iron, heat 2 tbsp (30 ml) oil until shimmering. Cook cakes over medium heat until piping hot and golden on both sides, about 5 minutes per side. Place on parchment-lined baking sheet and transfer to oven to keep warm while preparing poached eggs.
To serve, poach eggs in simmering water until done as preferred. Remove with a slotted spoon and place on warm Risotto Cakes topped with Tomato Salsa. Serve with a side salad of micro greens.
Drink Pairings