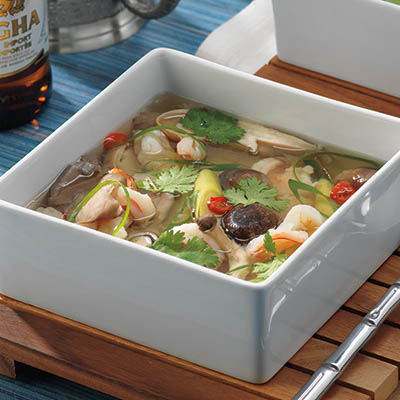 Ingredients
Serves 4
4 cups (1 L) chicken broth
2 stalks lemongrass, trimmed, crushed with a side of a cleaver and cut into 1-in (2.5 cm) pieces
3 fresh or frozen kaffir lime leaves
2 to 3 Thai red chilies, seeded and finely sliced
1 x 10 oz (284 ml) can straw mushrooms, drained and halved
¼ lb (50 g) oyster mushrooms, cleaned and coarsely chopped
½ lb (250 g) medium or small shrimp, peeled and deveined
3 tbsp (45 ml) fish sauce, or to taste
cilantro sprigs and chopped green onions, for garnish
Instructions
In a saucepan, bring broth and lemongrass to a boil over high heat. Add lime leaves and chilies and bring back to a boil. Lower to medium-high heat and cook for a further 5 minutes.
Add mushrooms and shrimp and bring to a boil. Cook for 1 minute or until shrimp are opaque and cooked.
Remove from heat and add lime juice and fish sauce, to taste. Serve in warm serving bowls and garnish with cilantro and green onions.
Drink Pairings