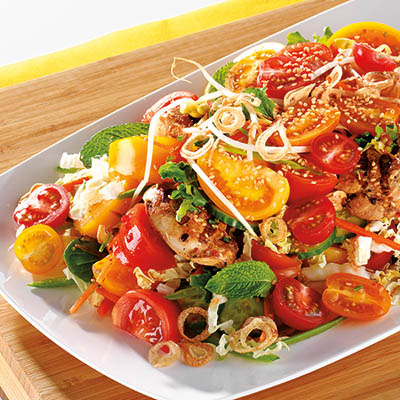 Ingredients
Serves 4 to 6
1½ tbsp (22 ml) fish sauce
7 garlic cloves, minced, divided
2 tbsp (30 ml) lime juice
1 tbsp (15 ml) coarsely ground pepper
2 large boneless, skinless chicken breasts, each cut into 5 or 6 medallions
1 tbsp (15 ml) finely chopped cilantro stems
1½ tsp (7 ml) chili garlic sauce
1½ tbsp (22 ml) unseasoned rice vinegar
1 tbsp (15 ml) grapeseed oil
1½ tsp (7 ml) granulated sugar
3 oz (90 g) mixed baby greens
1 lb (500 ml) heirloom tomatoes, cut into wedges or halved, if small
2 baby cucumbers, trimmed and thinly sliced
2 cups (500 ml) shredded Napa cabbage
1 medium carrot, peeled and shredded
½ cup (125 ml) julienned snow peas
½ cup (125 ml) bean sprouts
½ cup (125 ml) mint leaves
2 tbsp (30 ml) toasted sesame seeds, for garnish
¼ cup (60 ml) fried shallots, for garnish
Instructions
In a resealable plastic bag or airtight container, add fish sauce, 6 minced garlic cloves, soy sauce, lime juice and pepper. Seal and shake to combine. Add chicken, tossing to coat in marinade before refrigerating for at least 30 minutes, up to 24 hours.
To make salad dressing, in a bowl, whisk together cilantro stems, chili garlic sauce, remaining garlic, rice vinegar, oil and sugar until well combined and sugar has dissolved. Taste and adjust as desired to achieve a balance of sour, sweet, salty and spicy. Add more fish sauce if not salty enough, more lime juice if too salty or sweet, more sugar if too sour and more chili garlic sauce if needs more spice.
When ready to assemble salad, preheat grill or grill pan over medium-high heat.
Remove chicken from marinade and set aside at room temperature for 20 minutes. Reserve marinade. Cook chicken, turning occasionally, until cooked through. Baste chicken with leftover marinade after first turn. Discard remaining marinade. Remove chicken to a plate and set aside while assembling salad.
In a large bowl, toss together greens, tomatoes, cucumber, cabbage, carrots, snow peas, bean sprouts and mint. Arrange on a serving platter before topping with chicken and drizzling with dressing. Garnish with sesame seeds and fried shallots and serve immediately.
Drink Pairings