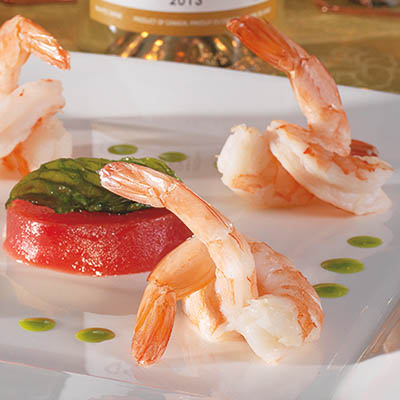 Ingredients
Serves 8
2 lbs (1 kg) ripe red tomatoes, halved
¼ cup (60 ml) fresh basil, julienned
1½ tbsp (22 ml) kosher salt, divided
½ tsp (2 ml) freshly ground black pepper
2 x 7 g (¼ oz) packages gelatin
64 shrimp, tail on, peeled and deveined, size 31 to 40
2 cups (250 ml) vegetable oil
8 fresh basil leaves, for garnish
Instructions
Seed tomatoes and place cut-side down on a cooling rack set over a baking sheet to drain for 30 minutes. In a food processor or blender, pulse tomatoes, shallots, garlic, basil, ½ tbsp (7 ml) salt and pepper until finely puréed. Pour into a shallow dish.
To make gelée, pour vodka in a small saucepan and sprinkle gelatin over top. Let gelatin bloom for 5 to 10 minutes, then heat over low heat (or in a microwave) until completely melted. Stir into tomato purée. Refrigerate for at least 4 hours or until firm.
Before serving, bring a large saucepan of water to a boil. Add 1 tbsp (15 ml) kosher salt and the shrimp. Cook for 2 to 3 minutes until shrimp are pink and starting to curl. Remove shrimp from saucepan, drain and rinse under cold water to stop cooking. Pat dry.
In a small saucepan bring vegetable oil to a low simmer. Add basil leaves and fry for about 1 minute. Remove leaves and drain on paper towels.
When ready to serve, use a cookie cutter and cut 8 rounds from gelée, about 2-in (5 cm) in diameter. Divide rounds among serving plates and arrange 8 shrimp per plate (or as desired). Garnish with basil and serve immediately.
Drink Pairings