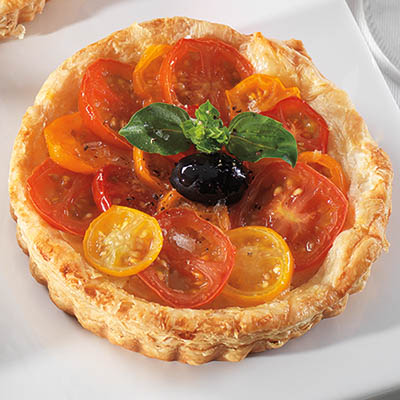 Ingredients
Serves 8
2 cups (500 ml) small tomatoes, assorted colours
2 tbsp (30 ml) kosher salt
14 oz (397 g) package puff pastry, thawed
1 cup (250 ml) diced sweet onion
4 tbsp (60 ml) olive oil, divided
1 tbsp (15 ml) Dijon mustard
1¼ cups (300 ml) grated Gruyère cheese
freshly ground black pepper, to taste
4 black olives, pitted and halved, for garnish
fresh basil leaves, cut into ribbons, for garnish
Instructions
Preheat oven to 400 F (200 C).
Cut tomatoes in ⅛-in (3 mm) slices. Place slices on a cooling rack over a cookie sheet so they can drain. Sprinkle with salt and let stand for an hour.
Roll out puff pastry on a lightly floured surface to a thickness of ⅛-in (3 mm). Using a large cookie cutter, cut into circles and fit into eight 3-in (7.5 cm) 2-piece tart pans. Prick dough all over with a fork and refrigerate for about 1 hour.
Remove tart pans from refrigerator. Cover each with a piece of parchment paper and fill with pie weights and place on a baking sheet. Bake for 15 minutes, remove parchment paper and pie weights and bake an additional 10 minutes, or until sides are slightly golden. Remove from oven, place on cooling rack and cool to room temperature.
In a frying pan over medium heat, cook onion in 2 tbsp (30 ml) olive oil about 5 minutes, until transparent and soft, stirring often. Cool to room temperature.
Brush bottom of cooled tart shells with Dijon mustard. Add grated cheese and top with onions. Add tomatoes, overlapping slightly. Brush tomatoes with olive oil and season with pepper to taste. (No salt as tomatoes are already salted.) Place tart pans on baking sheet.
Bake for 10 to 15 minutes, until pastry is golden and cheese has melted. Remove from oven and garnish with black olives and basil. Serve immediately or let cool to room temperature.
Drink Pairings