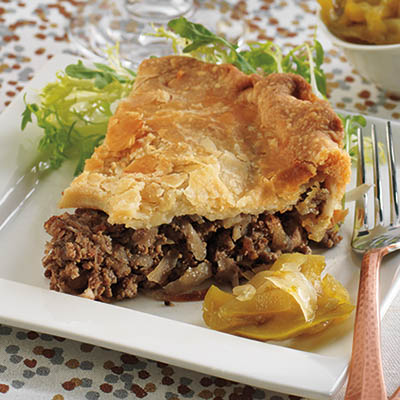 TORTIÈRE WITH HOMEMADE QUÉBÉCOIS GREEN KETCHUP
Ingredients
Serves 6 to 8
2 cups (500 ml) chilled unsalted butter, cubed
1 large onion, coarsely chopped
3 garlic cloves, finely chopped
12 medium white button mushrooms, stemmed and finely chopped
½ cup (125 ml) dry white wine
1 lb (500 g) lean ground beef
1½ lb (750 g) lean ground pork
½ tsp (2 ml) each, cinnamon, ground cloves, coarse ground black pepper
¼ tsp (1 ml) ground allspice
¾ cup (175 ml) russet potato, peeled and grated
flour, for rolling pastry
6 lbs (3 kg) medium green tomatoes, cleaned, coarsely chopped
3 lbs (1.5 kg) medium onions, about 15
1 cup (250 ml) coarse salt
3 green apples, peeled, cored and diced
2 cups (500 ml) white vinegar
1 cup (250 ml) cider vinegar
⅓ cup (75 ml) mixed pickling spices, tied in
2 tbsp (30 ml) mustard seeds
2 tbsp (30 ml) celery seeds, optional
Instructions
To make BUTTER PASTRY: Place flour, butter and salt in a food processor and pulse until pea-sized pieces form. Transfer to a mixing bowl and add the ice water until just combined, adding more ice water if too dry. Divide dough in half and flatten each half to a 1-in (2.5 cm) disk. Wrap each disk in plastic wrap and chill for at least 2 hours.
To make TORTIÈRE: Preheat oven to 400 F (200 C). Melt butter in a large saucepan over medium heat. Add chopped onion and garlic, sauté until soft, about 5 minutes. Add mushrooms and cook until almost all liquid has evaporated, 5 to 7 minutes. Add wine to deglaze bottom of the pan. Bring to a boil until liquid has evaporated, about 5 minutes.
Add ground beef, pork and spices. Cook, stirring to break up the meat into small pieces, until pork is cooked through. Mix in potato and cook until potato is soft, about 10 minutes. Remove from heat and chill, about 2 hours.
Roll out 1 disk of dough on a lightly floured surface into a 12-in (30 cm) round and transfer to a lined 9-in (23 cm) pie dish, leaving overhang. Fill with cooled meat mixture. Roll out remaining dough disk into a 10-in (25 cm) round. Place dough over the meat filling, then fold the edges of pastry together and crimp, brush with egg yolk. Cut 3 slits in top crust to allow steam to escape. Chill for 1 hour.
Bake tortière for 30 minutes, reduce heat to 350 F (180 C) and bake until crust is golden brown and filling is bubbly, 40 to 50 minutes. Allow to cool 20 minutes before serving.
To make QUÉBÉCOIS GREEN KETCHUP:In a large non-reactive container, alternate layers of tomatoes and onions, sprinkling each layer with salt. Loosely cover and let stand overnight in a cool area. Drain well, removing as much water as possible.
In a large stockpot, combine strained vegetables, chopped apples and celery with vinegars, sugar, spice bag, mustard seeds and celery seeds. Heat over medium-high heat and bring to a boil. Lower heat and simmer, uncovered for about 1½ hours, stirring frequently. Remove cheesecloth spice bag and pour into hot, sterilized jars.
Drink Pairings