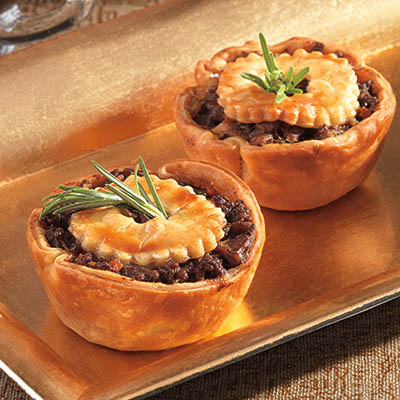 TOURTIÈRE TARTLETS WITH DRIED CHERRY SAUCE
Ingredients
Serves 24 tartlets or 1 large deep-dish tourtiere
5 cups (1¼ L) all-purpose flour
1 cup (250 ml) vegetable shortening
1 lb (500 g) ground wild boar
1 lb (500 g) ground venison
2 yellow onions, finely chopped
6 to 8 garlic cloves, minced
4 cups (1 L) cleaned, sliced wild mushrooms
2 celery stalks, finely chopped
2 carrots, peeled and finely chopped
2 cups (500 ml) beef stock
½ tsp (2 ml) ground cloves
½ tsp (2 ml) ground cinnamon
salt and freshly ground pepper
¾ cup (175 ml) fresh bread crumbs
½ cup (125 ml) chopped flat-leaf parsley
2 cups (500 ml) beef stock
2 oz (60 g) dried cherries, coarsely chopped
⅓ cup (75 ml) balsamic vinegar
Instructions
To make PASTRY: Combine flour and salt in a large bowl. Using a fork, work in shortening and lard until crumbly. Add enough ice water to form dough. Knead gently and form into a ball. Divide into 2 discs and wrap with plastic wrap. Refrigerate for at least 30 minutes.
To make FILLING: Heat oil in a large heavy Dutch oven or frying pan over medium-high heat and cook boar and venison, breaking up meat to mix, until no longer pink. Add onion, garlic, mushrooms, celery and carrot. Sauté for 10 minutes or until soft and golden brown. Add beef stock and spices. Cover and simmer on low for about 30 minutes or until almost no liquid remains and meat is tender. Stir often. Season with salt and pepper. Add bread crumbs and parsley and stir to combine. Let cool.
Preheat oven to 425F (220C). Roll out 1 disc of pastry on floured work surface to 1⁄4-in (0.5 cm) thickness. Using 5-in (12 cm) round cookie cutter, cut out 12 circles and press rounds into muffin tins. Repeat with second disc of dough. Gather up remaining dough and shape into a ball. Set aside. Fill shells with cooled meat mixture.
Roll out remaining pastry to 1⁄4-in (0.5 cm) thickness. Using a 21⁄2-in (6 cm) round cookie cutter, cut out 24 rounds for top of tartlets. Place rounds on top of filling in tart shells. Place tarts on a baking sheet. Bake for 25 minutes or until golden brown.
While tartlets bake, prepare DRIED CHERRY SAUCE: Combine sauce ingredients in a small saucepan. Cook over medium heat, simmering gently, until reduced by about half. Set aside and keep warm until ready to serve.
Drink Pairings