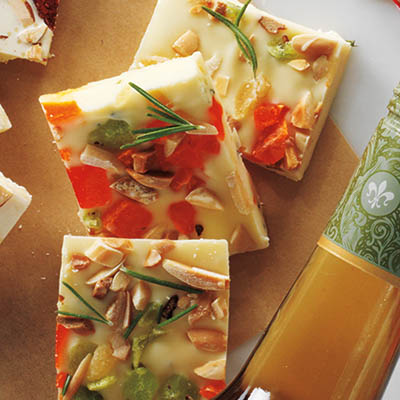 TROPICAL FRUIT AND ROSEMARY WHITE CHOCOLATE BARS
Ingredients
Serves 42 Bars
2 lbs (1 kg) white chocolate
1 tbsp (15 ml) minced fresh rosemary
¼ cup (60 ml) finely diced candied kiwi
¼ cup (60 ml) finely diced candied pineapple
¼ cup (60 ml) finely diced candied papaya
¼ cup (60 ml) chopped slivered almonds
Instructions
Lightly oil a 10 x 15-in (20 x 38 cm) jelly roll pan and line with plastic wrap with edges extending over sides of pan.
To make bars, coarsely chop white chocolate and place in a double boiler or a large bowl over simmering water. Stir gently as it begins to melt. Remove from heat just before fully melted and continue stirring until smooth.
Stir in rosemary and salt until evenly distributed and salt has dissolved. Transfer chocolate to prepared jelly roll pan and spread out evenly, then top with candied kiwi, pineapple, papaya and almonds.
Set bars aside for a couple of hours to slightly firm. Then score the surface into bars before refrigerating for several hours until fully firm.
Separate into bars and store in a tightly covered container in a cool place until ready to serve.
Drink Pairings