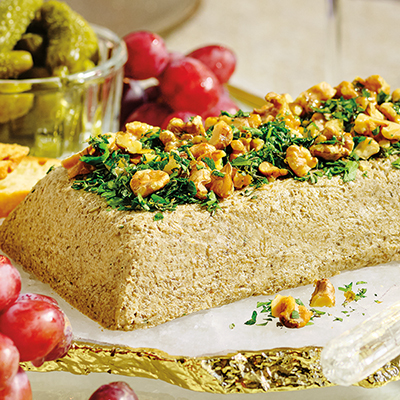 Ingredients
Serves 4 to 6
1 oz (30 g) dried porcini mushrooms
1 cup (250 ml) boiling water
2 tbsp (30 ml) unsalted butter
3 medium shallots, finely chopped
10 oz (280 g) cremini mushrooms, chopped
1 cup (250 ml) mascarpone cheese
½ tbsp (7 ml) red wine vinegar
⅓ cup (75 ml) Parmigiano-Reggiano
2 tbsp (30 ml) truffle oil
¼ cup (60 ml) roughly chopped fresh flat-leaf parsley leaves
2 tsp (10 ml) chopped fresh thyme leaves
½ cup (125 ml) roughly chopped toasted walnut halves
toasted baguette slices, cornichons and/or raw vegetables, to serve
Instructions
Place porcini mushrooms in a heatproof bowl and pour boiling water over. Set aside to soak for 10 minutes.
In a large frying pan, melt butter over medium heat until foaming. Add shallots and cook, stirring often, until translucent, about 4 minutes. Add cremini mushrooms and continue to cook, stirring occasionally, until mushrooms are tender, about 8 minutes. Meanwhile, drain porcini mushrooms and reserve liquid for another use, if desired. Finely chop mushrooms, then add to pan and cook, stirring occasionally, for another 5 minutes. Stir in garlic, cook for 1 minute then remove from heat and set aside to cool to room temperature, about 20 minutes.
Transfer mushroom mixture to a food processor fitted with steel blade attachment. Add mascarpone, vinegar, Parmigiano-Reggiano and truffle oil. Blend until smooth. Transfer to a small gratin dish or mould lined with plastic wrap so that it hangs over edges. Cover with plastic wrap and press down gently so it touches top of pâté, and refrigerate until firm, about 2 hours. (Any extra pâté can be frozen, well covered, in an airtight container for up to 1 month. Thaw in refrigerator overnight before serving.)
When ready to serve, in a small bowl, stir together parsley, thyme and walnuts. Remove plastic wrap and sprinkle mixture over pâté in a thin layer. Serve with toasted baguette slices, cornichons and/or a selection of raw vegetables, if desired.
Drink Pairings