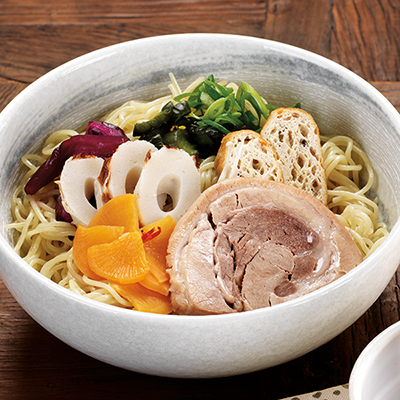 Ingredients
Serves 4
8 cups (2 L) Ramen Broth, make ahead
4 slices Char Siu Pork Belly, make ahead
4 portions fresh or frozen ramen noodles, cooked according to package directions
½ cup (125 ml) assorted Japanese pickled vegetables
8 Japanese fish cakes, sliced in half and warmed in boiling water
2 packages enoki mushrooms, root end trimmed off and divided into 4 portions
9 cups (2.1 L) chicken stock
2 packages Dashi granules
10 dried shiitake mushrooms, rinsed
1 tbsp (15 ml) sea salt, to taste
1 lb (500 g) pork belly, rolled and tied
½ cup (125 ml) cooking sake
4 green onions, cut in half
1 tsp (5 ml) rice vinegar
Instructions
In a pot over high heat, reduce prepared Ramen Broth to 4 cups (1 L). Set aside and keep warm while preparing remaining ingredients.
Over medium heat, warm Char Siu slices in its cooking liquid until hot, set aside.
Place hot noodles in 4 large bowls. Arrange Char Siu and fish cakes on noodles. Garnish with remaining ingredients. Ladle broth into 4 smaller soup bowls and serve broth with noodles and garnishes. This ramen is eaten by dipping noodles and garnishes into broth before eating.
To make SIMPLE RAMEN BROTH: In a large pot, simmer all ingredients for 30 minutes. Remove mushrooms before serving. Adjust salt to taste. Makes 8 cups (2 L)
To make CHAR SIU PORK BELLY: Preheat oven to 275 F (140 C).
Place pork in an ovenproof pot with a lid, just large enough to fit. Add remaining ingredients. Put pot on stove over high heat and bring to a boil. Cover with lid and put in oven for about 4 hours, or until pork is tender.
Let pork cool in cooking liquid until room temperature, then refrigerate overnight before slicing and using. Remove butcher's twine before slicing. Pork can be kept in braising liquid for up to 3 days.
Drink Pairings