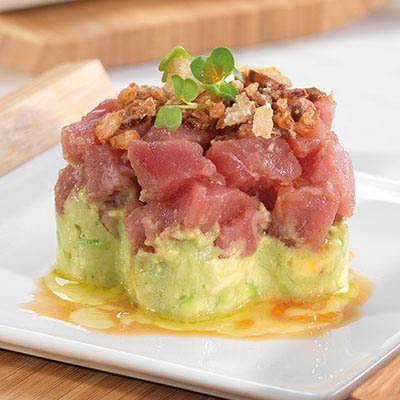 Ingredients
Serves about 8 to 10, depending on size of mould
¼ cup (60 ml) finely chopped shallots
¼ tsp (1 ml) salt, divided
½ cup (125 ml) vegetable oil, for frying
3 cups (750 ml) sashimi-grade ahi tuna, diced, about ½-in (1.25 cm) cubes
3 medium avocados, diced, about ½-in (1.25 cm) cubes
3 tbsp (45 ml) lemon juice, divided
½ tsp (2.5 ml) Tabasco sauce
2 tbsp (30 ml) rice vinegar
micro greens for garnish (optional)
Instructions
In a small bowl, toss shallots with flour and ⅛ tsp (pinch) salt. Toss well. In a small saucepan over high heat, heat vegetable oil. When hot, fry shallots in oil until light golden in colour. Do not wait for deeper colour or it may burn. Remove from oil and drain on paper towel. Allow to cool to room temperature and set aside.
In a medium bowl, pour olive oil over diced ahi tuna. Mix well. Set aside.
In non-reactive bowl, toss diced avocados with 2 tbsp (30 ml) lemon juice and Tabasco sauce. Season with ⅛ tsp (pinch) salt and pepper, to taste. Set aside.
In a jar, combine soy sauce, rice vinegar, mirin, 1 tbsp (15 ml) lemon juice, honey and chili oil. Put lid on jar and shake dressing vigorously until well combined, about 15 seconds.
Spoon avocado mixture into mould of desired shape; about ¾-in (2 cm) to 1-in (2.5 cm) high. Top with tuna, about 1½-in (3.75 cm) high. Lightly press tuna and avocado into mould and slowly lift it to leave a perfectly shaped serving of tuna and avocado tartare. Alternatively, simply spoon tuna over avocado as desired. Drizzle dressing over tartare and spoon some around it. Top with fried shallots and garnish with micro greens, if desired.
Drink Pairings