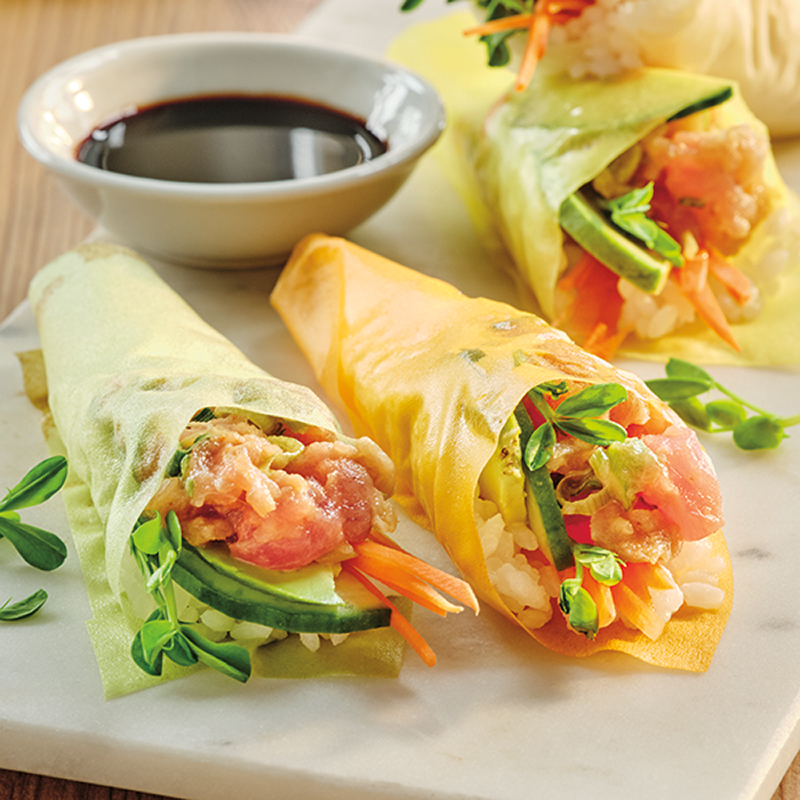 Ingredients
Serves Serves 2
1 cup (250 ml) uncooked sushi rice
2 tbsp (30 ml) rice vinegar
10 oz (284 g) raw sushi-grade tuna, diced
2 green onions, trimmed and diced
1 tbsp (15 ml) mayonnaise
½ tbsp (7 ml) Sriracha, or to taste
½ tsp (2.5 ml) sesame oil
5 full sheets soy paper*, cut in half
1 cup (250 ml) sliced cucumber
1 medium carrot, thinly sliced
1 cup (250 ml) pea shoots
Instructions
In a fine mesh strainer, rinse uncooked rice under cold water until water runs clear. Transfer to a medium saucepan and add 1¼ cups (310 ml) water. Bring to a boil, then reduce heat to low, cover and cook for 20 minutes. Rice should be tender and have absorbed all the water. Leave lid on for 10 minutes after water is absorbed to steam rice. Transfer to a non-reactive dish and let cool until cool enough to handle.
In a heatproof bowl, combine vinegar, sugar and salt. Microwave on high for 30 seconds, or until sugar and salt have completely dissolved. Pour over rice and gently mix to incorporate. Set aside.
In a medium bowl, mix together tuna, green onions, mayonnaise, Sriracha and sesame oil. Set aside.
Place half a soy paper sheet on a dry, flat surface with the long side parallel to you. Wet hands and spoon about 2 tbsp (30 ml) rice into one hand. Pat rice down evenly on left half of soy paper; it should make about a 2-in (5 cm) square.
Place 1 tbsp (15 ml) tuna mixture on top of rice with some cucumber, avocado, carrot and a few pea shoots. Fold the bottom left corner over towards the centre of the top edge of the sheet, to form a triangle. Take the triangle and roll it in the same direction of the first fold, rolling it up to form a cone. Repeat with remaining ingredients. Serve immediately with soy sauce and wasabi.
* Can substitute 5 full sheets nori, cut in half, if desired. Toast nori before using. Preheat oven to 400 F (200 C), and place nori on a baking sheet. Transfer to oven for 1 minute, then remove and let cool.
Drink Pairings