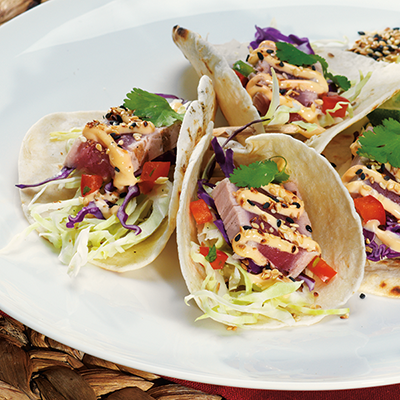 Ingredients
Serves 2 to 3
1 x 6 oz (180 g) tuna steak
2 tbsp (30 ml) hoisin sauce
½ cup (125 ml) mayonnaise
1 small red pepper, sliced
1 cup (250 ml) green cabbage, shredded
½ cup (125 ml) red cabbage, shredded
2 tbsp (30 ml) toasted sesame seeds
¼ cup (60 ml) cilantro, chopped
Instructions
Preheat barbecue to medium-high heat.
Brush tuna steak with hoisin sauce. Grill tuna on each side for 2 to 3 minutes. While grill is hot, toast tortillas, 1 minute maximum. Set aside.
In a small bowl, mix mayonnaise and Sriracha together. Place all ingredients on a large platter. Slice tuna lengthwise into strips. For assembly, spread Sriracha mayonnaise on tortilla. Top with tuna, red pepper and cabbage. Garnish with sesame seeds, cilantro and juice of a lime wedge.
Drink Pairings