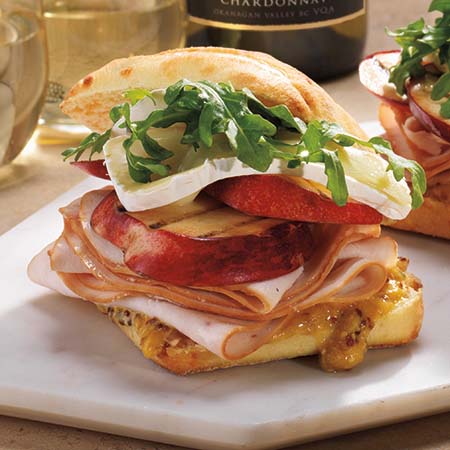 TURKEY, BRIE AND PEACH SANDWICHES
Ingredients
Serves 4
1 medium-sized shallot, finely chopped
1 garlic clove, finely chopped
2 tbsp (30 ml) brown sugar
1 tsp (5 ml) apple cider vinegar
2 tbsp (30 ml) Dijon mustard
2 tbsp (30 ml) whole grain mustard
1 tbsp (15 ml) finely chopped fresh chives
1 tsp (5 ml) chopped fresh thyme leaves
freshly ground black pepper, to taste
TURKEY, BRIE AND PEACH SANDWICHES:
1 cup (250 ml) mayonnaise
1 small garlic clove, finely minced
1 tsp (5 ml) chili powder
3 tbsp (45 ml) sriracha sauce
2 to 3 large slightly under-ripe peaches or nectarines, cut into thick slices
¾ lb (340 g) turkey breast slices
Instructions
To make PEACH MUSTARD CHUTNEY: bring a saucepan of water to a boil. Lightly score an X with a paring knife on the bottom of each peach. Blanch in boiling water just until skin begins to peel back at the cut, about 30 seconds. Transfer to an ice bath and cool. Peel and coarsely chop flesh, discarding stone.
Heat olive oil over medium heat. Add shallot and garlic and sauté until soft. Add chopped peaches, brown sugar, vinegar, salt and water. Bring to a boil, then simmer, stirring occasionally, until peaches are soft and mixture thickens slightly, 5 to 8 minutes. Transfer to food processor and pulse until chunky (do not purée). Transfer to a bowl and let cool.
Mix in mustards, chives, thyme and season with salt and pepper. Cover and refrigerate overnight to infuse flavours before using.
To make TURKEY, BRIE AND PEACH SANDWICHES: Preheat oven to 375 F (190 C). In a mixing bowl, whisk together mayonnaise, garlic, chili powder and sriracha sauce. Cover and refrigerate for 30 minutes. Add peach slices to a preheated medium-heat grill and cook until grill marked, about 1 minute, then turn over and grill another minute.
Slice ciabatta rolls, spread bottom with a good dollop of peach mustard chutney, top with turkey slices, grilled peaches and Brie cheese. Place sandwiches, openfaced, onto a foil-lined baking sheet and place in preheated oven for 10 minutes or until cheese is melted. Top with arugula and dollops of mayonnaise mixture. Close sandwiches and serve immediately.
Drink Pairings