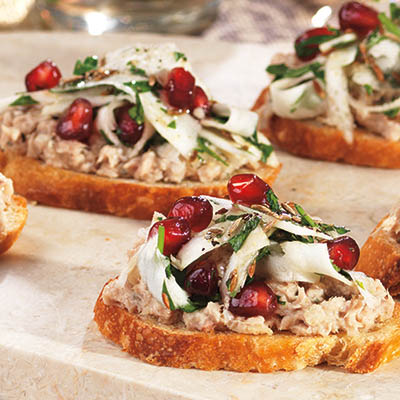 TURKEY RILLETTES CROSTINI WITH CELERIAC SALAD
Ingredients
Serves about 40 crostini
1 tbsp (15 ml) extra-virgin olive oil
1 medium-sized shallot, peeled, chopped
2 tsp (10 ml) chopped fresh thyme
salt and pepper, to taste
2½ cups (625 ml) cooked, shredded, dark turkey meat
½ cup (125 ml) duck fat, divided
1½ cups (375 ml) low-sodium turkey stock
1 sourdough baguette, ½-in (1 cm) rounds
1½ tsp (7 ml) cumin seeds
1 tbsp (15 ml) extra-virgin olive oil
½ tsp (2 ml) liquid clover honey
¾ cup (175 ml) chopped fresh parsley
½ cup (125 ml) pomegranate seeds
Instructions
To make TURKEY RILLETTES: Warm oil in frying pan over medium heat. Add finely chopped shallot and cook, stirring often, until starting to caramelize. Stir in garlic, thyme and pinch of salt and pepper. Allow to cook another minute. Transfer to a bowl and set aside.
Add bacon to a large saucepan over medium heat. Cook, turning once or twice, until crisp, about 3 to 4 minutes. Transfer to a paper towel-lined plate to drain. Chop into small pieces.
In a food processor, add shredded turkey meat, shallot mixture, bacon and 2 tbsp (30ml) duck fat. Pulse until well combined and turkey is finely chopped. Slowly add 1⁄2 cup (125 ml) stock, pulsing to combine, before adding another 2 tbsp (30 ml) duck fat, pulsing until well combined. Continue alternating remaining stock and duck fat until mixture is spreadable but still slightly chunky. You may not need all the stock. Stir in cognac and season to taste. Transfer to a bowl, cover with plastic wrap and refrigerate at least 1 hour. Turkey Rillettes may be made 1 day ahead and refrigerated until ready to use.
Preheat oven to 350 F (180 C). To make crostini, place baguette rounds on a baking sheet in a single layer, leaving about 1⁄2-in (1 cm) between each. Lightly brush both sides with a little olive oil before baking until crisp and golden brown, 6 to 8 minutes. Allow to cool completely on baking tray.
Before serving, make CELERIAC SALAD: In a dry frying pan, toast cumin seeds over medium heat until fragrant, 2 minutes. Set aside to cool.
Half fill a medium bowl with cold water and squeeze in juice of half a lemon. Trim celeriac and cut into 1⁄2-in (1 cm) half moons. Using a mandolin or vegetable peeler, slice celeriac into thin strips. Add strips to lemon water as they are cut to prevent browning.
In a small bowl, whisk together juice from remaining lemon half, oil, honey and pinch of salt. Set aside.
In a medium bowl, toss together parsley, pomegranate seeds, cumin and thoroughly drained celeriac strips. Pour dressing over salad and toss well to coat. Season to taste with more salt.
Spread 1 tbsp (15 ml) turkey rillettes over crostini. Top with celeriac salad and serve.
Drink Pairings