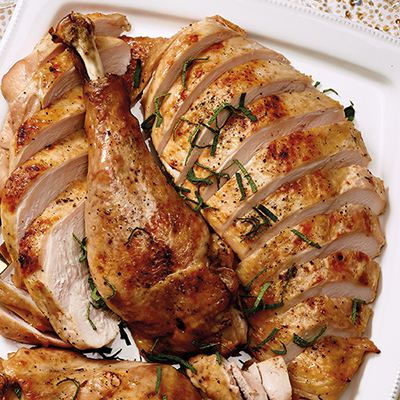 TURKEY TWO-WAYS SERVED WITH ROASTED GARLIC GRAVY
Ingredients
Serves 8
10 to 12 lb (4.5 to 5.5 kg) whole turkey, butchered1 (2 legs, 2 wings, 2 breasts)
1½ tsp (7 ml) dried poultry seasoning
2 tbsp (30 ml) grapeseed oil
2 tbsp (30 ml ) + 1 tbsp (15 ml) flour, divided
salt and pepper, to taste
3 cups (750 ml) chicken stock
2 sprigs rosemary, divided
2 tbsp (30 ml) + 2 tbsp (30 ml) butter, softened
Instructions
On 2 separate parchment-lined baking sheets, lay out all turkey meat, breasts on 1 sheet, legs and wings on the other.
In a small bowl, mix together salt, poultry seasoning and pepper. Rub over each piece of turkey. Loosely cover in plastic wrap and refrigerate for up to 6 hours.
Preheat oven to 350 F (180 C).
Rinse all salt from turkey parts and pat dry. In a large Dutch oven, over medium heat, heat oil. Dust turkey legs and wings with 2 tbsp (30 ml) flour and season with salt and pepper. Sear each piece in oil until golden brown, about 5 minutes each side. Remove from Dutch oven and set aside.
In same pot, sauté onion, carrot and celery until soft. Reduce heat to low and add chicken stock. Reduce for about 10 minutes and return turkey legs and wings to pot. Add 3 sprigs of thyme, 3 sage leaves, 1 sprig rosemary and garlic halves. Put lid on Dutch oven and return to oven for 90 minutes. Remove from oven and let rest, covered, while continuing preparation.
In a small mixing bowl, place 2 tbsp (30 ml) butter. Finely chop remaining herbs and mix with butter. Divide mixture in half and rub over each piece of turkey breast. Bake for 30 to 45 minutes at 350 F (180 C) until internal temperature reads 165 F (75 C) on a meat thermometer. Remove and let rest for 10 minutes before slicing.
Arrange roasted and braised turkey pieces on a serving platter. Remove garlic from Dutch oven and set aside. Strain braising liquid and discard solids. Set liquid aside
To make Roasted Garlic Gravy, in a medium saucepan over medium heat, melt remaining butter. Add 1 tbsp (15 ml) flour and whisk for a minute. Add braising liquid ½ cup (125 ml) at a time, whisking constantly. Remove garlic cloves from head and whisk into gravy. Once you have achieved preferred gravy consistency, remove from heat and serve alongside turkey.
Drink Pairings