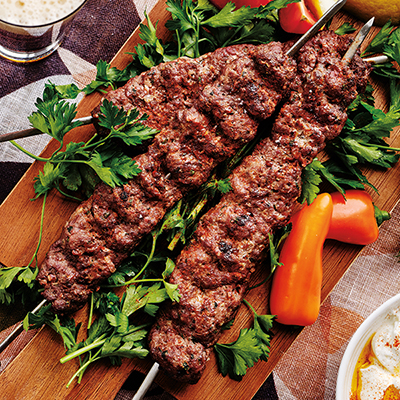 Turkish Adana Lamb Kebabs
Ingredients
Serves 4
¼ medium yellow onion, finely diced
4 garlic cloves, finely minced
1 tsp (5 ml) ground coriander
2 tsp (10 ml) ground cumin
1 tsp (5 ml) cayenne pepper
2 tbsp (30 ml) cold water
4 pieces pita bread, to serve
1 tbsp (15 ml) extra-virgin olive oil
1 cup (250 ml) thick Greek yogurt, to serve
1 tsp (5 ml) paprika, to serve
1 small red onion, sliced, to serve
1 tomato, sliced, to serve
4 baby cucumbers or 1 English cucumber, cut into chunks, to serve
8 pickled peppers (optional), to serve
2 handfuls Italian parsley leaves, for garnish
Instructions
In a large bowl, mix together lamb, beef, yellow onion, garlic, coriander, cumin, salt, sumac, cayenne, black pepper and cold water until very well combined. Then continue mixing for 1 to 2 minutes more. Mixing for slightly longer helps the mixture achieve a very smooth texture and ensures the skewers stay together.
Preheat grill to medium
Divide meat mixture into 8 portions. To shape, take a portion in your hand and roll it roughly into a ball. Slide metal skewer into ball, then using one hand, work meat evenly down along entire skewer. Use fingers to create grooves. Repeat with remaining portions.
Grill skewers over medium heat, turning once, until cooked through, golden brown on the outside and reaches an internal temperature of 160 F (71 C), about 8 to 10 minutes. Transfer skewers to a serving platter, then warm pita on grill.
To serve, drizzle olive oil over yogurt and sprinkle with half the paprika. Sprinkle remaining paprika over red onion. Serve skewers with warm pita, yogurt and vegetables. Garnish with parsley.
Drink Pairings