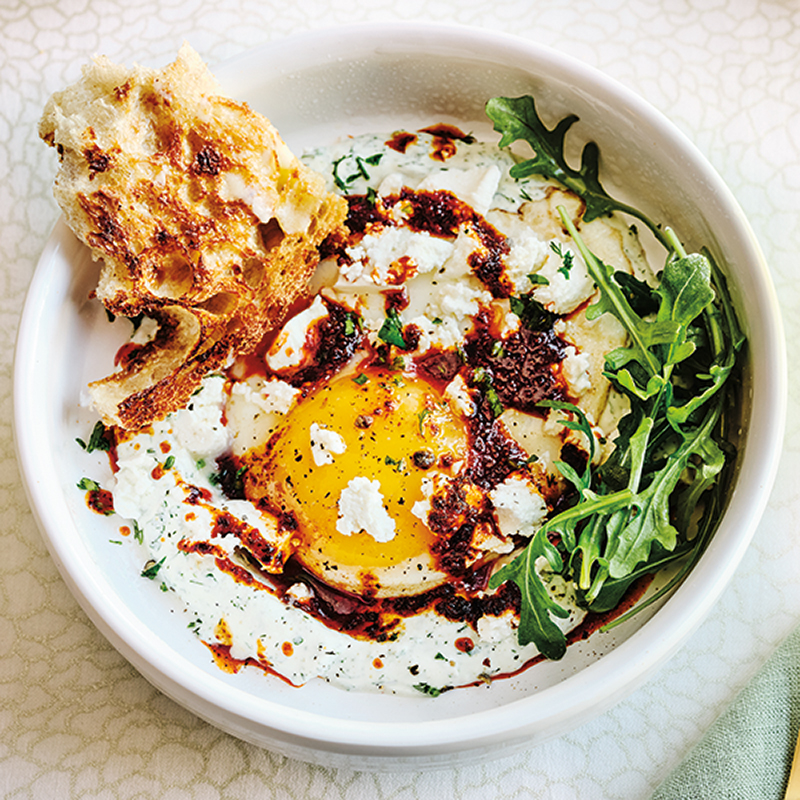 Turkish Eggs with Herbed Yogurt & Chili Butter
Ingredients
Serves Serves 4
¾ cup (175 ml) full-fat Greek yogurt
1 small garlic clove, minced or grated
2 tsp (10 ml) finely chopped dill
2 tsp (10 ml) finely chopped flat-leaf parsley leaves
sea salt and freshly ground black pepper, to taste
3 tbsp (45 ml) extra-virgin olive oil, divided
2 tbsp (30 ml) salted butter
½ tsp to 1 tsp (2.5 to 5 ml) Aleppo or crushed red pepper flakes, or to taste
½ tsp (2.5 ml) paprika, or to taste
¼ cup (60 ml) crumbled Macedonian feta
1 cup (250 ml) baby arugula
thick sliced sourdough, toasted and buttered, to serve
lemon wedges, to serve (optional)
Instructions
To make herbed yogurt, in a small bowl, combine yogurt, garlic, dill and parsley. Whisk until smooth and season with salt and pepper to taste. Divide between 4 shallow bowls and smooth out with back of a spoon to create an even base. Set aside at room temperature.
In a large skillet, heat 2 tbsp (30 ml) oil over medium-high heat. When oil is hot and just begins to shimmer, crack eggs into skillet. Cook sunny-side up to desired doneness and season with salt and pepper. Transfer eggs to prepared bowls on top of yogurt.
Meanwhile, make chili butter. In a small saucepan over medium heat, melt butter and cook until lightly golden brown and fragrant. Add remaining 1 tbsp (15 ml) oil, increase heat to medium-high and allow mixture to sizzle, about 1 minute. Add pepper flakes and paprika and cook for 1 to 2 more minutes, swirling pan.
To serve, sprinkle eggs with feta and top with arugula. Spoon hot chili butter over top, and season with salt and pepper, to taste. Serve immediately with toasted sourdough and a lemon wedge, if desired.
Drink Pairings