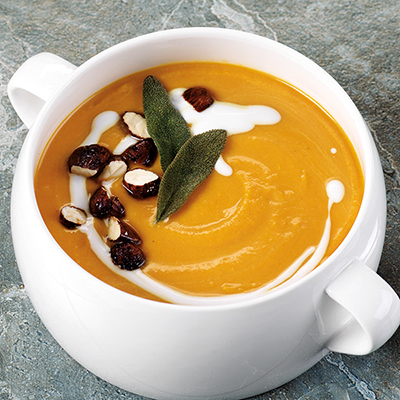 TURMERIC AND SWEET POTATO SOUP
Ingredients
Serves 4
½ cup (125 ml) natural almonds
2 tbsp (30 ml) tamarind sauce
3 tbsp (45 ml) coconut oil, divided
1 yellow onion, peeled and chopped
1 tbsp (15 ml) turmeric powder
½ tsp (2.5 ml) smoked paprika
1 x 13.5 oz (400 ml) can coconut milk
2½ cups (625 ml) vegetable stock
10 cups (2.5 L) peeled, cubed sweet potato
Instructions
In a small frying pan over medium heat, stir together almonds and tamarind, stirring constantly, until moisture evaporates and pan is dry, about 5 minutes. Tumble onto parchment paper and let almonds cool before coarsely chopping. Set aside for garnish.
Wipe out frying pan, add 2 tbsp (30 ml) coconut oil and warm over medium heat. Carefully, as oil will sputter, add 4 or 5 sage leaves to frying pan. Fry until darkened and crispy, about 30 to 45 seconds. Transfer to a paper towellined plate to drain. Repeat frying with remaining sage leaves. Set aside.
In a large saucepan over medium heat, warm remaining 1 tbsp (15 ml) coconut oil. Add onions and cook until translucent, about 8 minutes. Stir in garlic, turmeric, paprika and salt and cook until garlic is fragrant, about 1 minute. Set aside 2 tbsp (30 ml) of coconut milk in a small bowl for garnish. Add remaining coconut milk, stock and sweet potatoes to saucepan. Increase heat to high and bring soup to a boil before reducing heat to medium-low and allowing to simmer, uncovered, until sweet potato can easily be pierced with a fork, about 30 minutes.
In a blender, purée soup in batches until smooth. Return to saucepan over low heat and stir in lime juice. Adjust seasoning, if desired.
To serve, divide warm soup among soup bowls. Garnish with a drizzle of reserved coconut milk, some chopped tamarind-spiced almonds and a few fried sage leaves. Serve immediately.
Drink Pairings