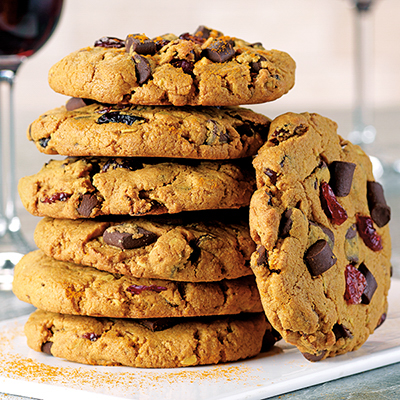 TURMERIC CHOCOLATE CHUNK AND DRIED CHERRY COOKIES
Ingredients
Serves about 16 cookies
½ cup (125 ml) sweet rice flour
½ cup (125 ml) brown rice flour
½ cup (125 ml) rolled oats
2 tsp (10 ml) ground turmeric
1 tsp (5 ml) ground cinnamon
1 cup (250 ml) cashew butter
6 tbsp (90 ml) coconut oil, melted and cooled
¾ cup + 2 tbsp (205 ml) maple syrup
2 tsp (10 ml) vanilla extract
1½ cups (375 ml) chocolate chunks
½ cup (125 ml) dried cherries, roughly chopped
Instructions
Preheat oven to 375 F (190 C). Line 2 large baking trays with parchment paper and set aside.
In a medium bowl, whisk together rice flours, rolled oats, oat flour, baking soda, salt, turmeric and cinnamon until well combined.
In a large bowl, whisk together cashew butter, coconut oil, maple syrup and vanilla extract until smooth and creamy. Add flour mixture and stir with a wooden spoon until well combined. Stir vigorously for an additional 20 to 30 seconds, this will ensure a chewy textured cookie. Fold in chocolate chunks and cherries.
Form dough into 2-in (5 cm) balls and place at least 2-in (5 cm) apart on prepared baking trays. Bake 1 tray of cookies at a time. After 5 minutes, rotate baking tray and continue to bake cookies another 5 to 6 minutes. Allow cookies to cool to room temperature on tray. Cookies are best enjoyed same day but may be refrigerated in an airtight container for up to 3 days.
Drink Pairings