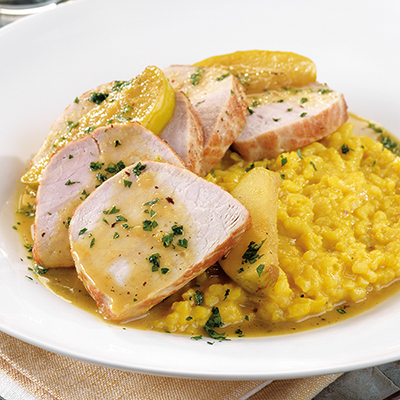 TURMERIC RISOTTO SERVED WITH CIDER-GLAZED PORK TENDERLOIN
Ingredients
Serves 4
1 tbsp (15 ml) grapeseed oil
½ cup (125 ml) diced yellow onion
1 cup (250 ml) Arborio rice
2 cups (500 ml) no-salt-added chicken stock, plus extra
¾ cup (175 ml) hard apple cider
½ cup (125 ml) finely grated Parmesan, plus extra
Cider-Glazed Pork Tenderloin, to serve, recipe follows
CIDER-GLAZED PORK TENDERLOIN:
1 tbsp (15 ml) grapeseed oil
2 pork tenderloins, about 1 lb (500 g) each
salt and ground pepper, to taste
¼ tsp (1 ml) ground turmeric
¾ cup (175 ml) hard apple cider, plus extra
1 Granny Smith apple, cored and sliced into 16 wedges
1 tbsp (15 ml) cold unsalted butter
1 tbsp (15 ml) chopped fresh flat leaf
parsley leaves, for garnish
Instructions
Preheat oven to 375 F (185 C).
In a 3- or 4-quart (3- or 4-L) Dutch oven over medium heat, heat grapeseed oil. Add onions and cook, stirring frequently, until translucent and starting to brown, about 4 minutes. Stir in garlic, salt, pepper and turmeric and continue to cook another 2 minutes. Stir in rice and cook until toasted and just beginning to brown, about 3 minutes. Pour chicken stock and cider over rice mixture and bring liquid to a simmer. Stir in cheese before placing Dutch oven in preheated oven and cooking uncovered for 15 minutes.
While risotto bakes, start making Cider-Glazed Pork Tenderloin, separate recipe follows.
After rice has cooked for 15 minutes, stir mixture and continue to bake until liquid is absorbed and mixture is creamy, another 10 to 15 minutes. If rice mixture is still slightly crunchy, stir in more chicken stock about ⅓ cup (75 ml) at a time and bake another 5 to 10 minutes.
Once baked, allow risotto to cool for 10 minutes. Serve warm with Cider- Glazed Pork Tenderloin and an additional sprinkling of Parmesan, if desired.
TO MAKE CIDER-GLAZED PORK TENDERLOIN: Preheat oven to 375 F (185 C).
Heat oil in a large ovenproof skillet over medium-high heat. Season pork tenderloins with salt, pepper and turmeric. Sear pork in hot skillet until browned all over, about 2 minutes per side. Add cider, bring to a boil and transfer skillet to oven and roast until internal temperature of pork reaches 145 F (63 C), about 30 minutes. Transfer pork to a cutting board and let rest for 10 minutes while preparing sauce.
Place same skillet back over medium heat and add apples and thyme sprigs. Cook, turning apples occasionally, until softened and starting to caramelize, about 5 minutes. If pan gets dry add some additional cider. Remove skillet from heat and stir in cold butter with a wooden spoon.
To serve, slice pork tenderloin into medallions. Divide pork over portions of turmeric risotto and top with some caramelized apples and a spoonful of pan sauce. Garnish with a sprinkle of chopped parsley and enjoy.
Drink Pairings