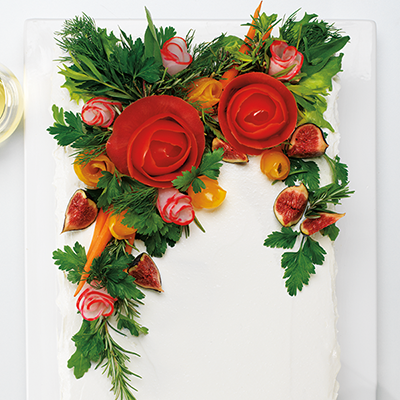 TURMERIC-SPICED CHICKEN SMÖRGÅSTÅRTA
Ingredients
Serves 16
6 chicken breasts, skinless and boneless
1 tsp (5 ml) each, salt and pepper
2 cups (500 ml) mayonnaise
2 tsp (10 ml) turmeric powder
2 tbsp (30 ml) curry powder
½ cup (125 ml) mango chutney
¼ cup (60 ml) dill relish
½ tsp (2.5 ml) smoked paprika
2 cups (500 ml) finely chopped celery
1 cup (250 ml) finely chopped green onions
32 slices of white bread, approximately
4 x 4-in (10 x 10 cm) after crusts removed
¾ cup (175 ml) butter, at room temperature, divided
6 tbsp (90 ml) mustard, divided (preferably sweet Bavarian mustard)
4 cups (1 L) spreadable cream cheese
2 cups (500 ml) ricotta cheese
optional garnish suggestions: tomatoes, arugula, figs, grapes, radishes, beets and thyme
Instructions
Season chicken with salt and pepper. In a large saucepan, heat oil and fry chicken until cooked, about 5 minutes per side. Insert knife in centre of fillets to ensure it is fully cooked. Remove from pan along with any juices and set aside in a bowl. When cool, cut into ¾ x ¾-in (2 x 2 cm) chunks and return to bowl with accumulated juices.
In a large bowl, combine mayonnaise, turmeric, curry powder, mango chutney, dill relish and paprika together. Mix in celery, green onions and cubed chicken. Cover and refrigerate until ready to assemble. Should yield about 6 cups (1.5 L) of chicken salad.
On a large serving plate, place 8 slices of bread face down in 2 rows of 4 slices, touching each other to form a rectangle roughly 8 x 16-in (20 x 40 cm). Spread surface of bread with ¼ cup (60 ml) butter and lightly follow with 2 tbsp (30 ml) mustard. Spread ⅓ of chicken salad evenly over and cover with another 8 slices of bread. Repeat this process 2 more times, for a total of 3 rows of chicken salad sandwiched between 4 layers of bread. Snuggly wrap sides and top of sandwich cake with plastic wrap and refrigerate overnight or at least 4 hours.
Using a whisk or hand mixer, blend together cream cheese and ricotta until smooth. Remove plastic wrap from sandwich cake. Using an offset spatula, frost sides and top of sandwich cake with cheese mixture. Decorate with vegetables, fruit and herbs, as desired, and serve.
Drink Pairings