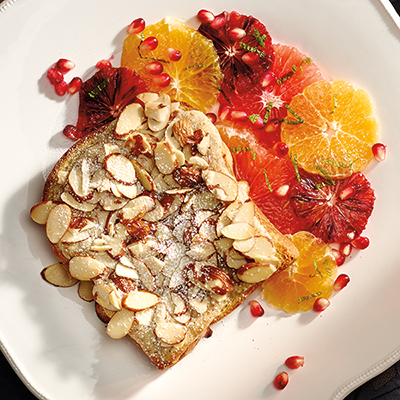 TWICE-BAKED CITRUS ALMOND BRIOCHE SERVED WITH CITRUS SALAD
Ingredients
Serves 6
1¼ cups (310 ml) sliced almonds, divided
½ cup (125 ml) granulated sugar, divided
¼ cup (60 ml) unsalted butter, at room temperature
¼ tsp (1 ml) almond extract
1 tbsp (15 ml) orange zest
1 tbsp (15 ml) grapeseed oil
6 slices brioche bread, each about ¾-in (2 cm) thick
2 tbsp (30 ml) lime juice
1 pink or white grapefruit
½ cup (125 ml) pomegranate seeds
Instructions
Preheat oven to 400 F (200 C).
In bowl of a food processor fitted with steel blade attachment, pulse together ½ cup (125 ml) almonds, ¼ cup (60 ml) sugar and salt until finely ground. Add egg, butter and almond extract and process to form a paste.
In small saucepan, bring orange zest, Champagne and remaining ¼ cup (60 ml) sugar to a simmer over medium-high heat, stirring, until sugar dissolves. Remove from heat and let cool to room temperature.
In small bowl, stir together olive oil and remaining ¾ cup (175 ml) almonds.
Arrange bread in a single layer on a parchment-lined baking sheet. Brush each slice generously with Champagne syrup until very moist, then spread with about 2 tbsp (30 ml) of almond paste in an even layer. Top with almond mixture.
Bake until brioche toasts are caramelized on edges and almonds are golden brown, about 20 to 25 minutes.
While brioche bakes, prepare Citrus Salad. In a small bowl, whisk together honey and lime juice. Cut away peel and pith of grapefruits, oranges and clementine before slicing into rounds. Arrange citrus rounds on a plate or platter. Sprinkle with pomegranate seeds and drizzle with honey mixture. Let aside for 10 minutes.
Serve warm Citrus-Almond brioche with citrus salad and an additional drizzle of any leftover Champagne syrup, if desired.
Drink Pairings