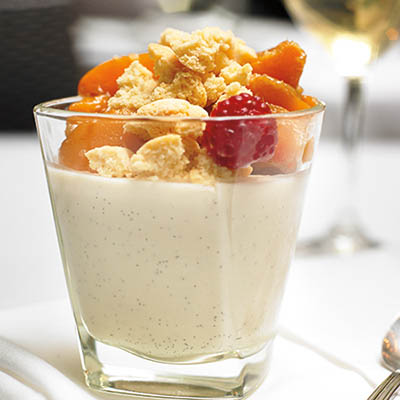 VANILLA BEAN PANNA COTTA WITH BOURBON PEACHES
Ingredients
Serves 6
2 cups (500 ml) half and half cream
2 cups (500 ml) cold whipping cream
½ cup (125 ml) granulated sugar
2 tbsp (30 ml) Madagascar vanilla paste or 2 vanilla pods, seeds scraped
1 tbsp (15 ml) unsalted butter
2 fresh peaches, peeled, stone removed and each cut into 12 thin slices
2 tbsp (30 ml) raw brown sugar
2 to 3 oz (60 to 90 ml) bourbon
1 cup (250 ml) crumbled Amaretti cookies
½ cup (125 ml) fresh raspberries
Instructions
Place gelatin sheets in a shallow bowl of cold water. Set aside for a few minutes to soften and allow to bloom.
In a medium-sized saucepan combine half and half cream, granulated sugar and vanilla paste or seeds. Bring to a slow simmer over medium heat. Using your hands, squeeze out excess water from gelatin sheets and add to half and half cream. Raise heat to mediumhigh and cook, stirring constantly, until gelatin is dissolved completely.
Remove saucepan from heat and strain through a fine-meshed sieve into a large bowl. Slowly stir in ice cold whipping cream using a spoon. Then pour into 6 individual serving glasses. Refrigerate until set, about 4 hours.
When panna cotta has set and you're ready to serve, melt butter in large frying pan. Add sliced peaches and cook until pale golden on one side. Then flip slices and add sugar. Toss over medium heat until sugar is melted. Carefully add bourbon as it will flare up. Remove pan from heat allowing flame to burn out. Cool briefly.
Sprinkle crumbled cookies onto panna cotta and spoon peaches in bourbon sauce over top. Garnish with a few raspberries and serve immediately.
Drink Pairings