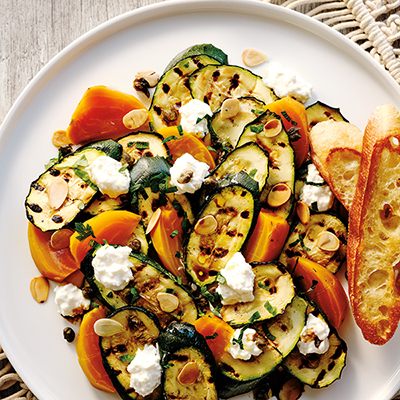 VEGETABLE CARPACCIO WITH BURRATA
Ingredients
Serves 4
salt and pepper, to taste
2 tbsp (30 ml) sunflower oil
4 tbsp (60 ml) olive oil, divided
8 oz (250 g) burrata cheese
1 tbsp (15 ml) balsamic vinegar
Instructions
Preheat oven to 350 F (175 C). Wrap beets in foil and roast for about 90 minutes, or until fork-tender (will vary depending on size). Set aside and allow to cool.
Preheat barbecue to medium-high. Slice zucchini diagonally into ½-in (1.25 cm) rounds and season both sides with salt and pepper. Grease barbecue, then grill zucchini for 6 to 8 minutes per side with the lid closed, until cooked through but not soggy. Remove from grill and set aside to cool.
In a small skillet, heat sunflower oil over medium-high heat. Pat capers dry with paper towel and fry for 5 to 8 minutes, or until they begin to open up like flowers. Remove with a slotted spoon onto a paper towel-lined plate, set aside.
Brush 2 tbsp (30 ml) olive oil onto the baguette slices. Grill for 1 to 2 minutes per side. Remove from grill and set aside.
Peel cooled beets, then slice into rounds. On a platter, layer beets and zucchini. Place burrata on top, dress with remaining 2 tbsp (30 ml) olive oil, balsamic and fried capers and season with salt and pepper to taste. To serve, spread burrata onto grilled baguette slices and top with vegetables.
Drink Pairings