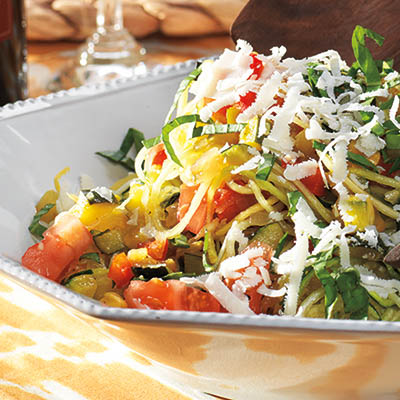 VEGETABLE NOODLES WITH ROASTED RATATOUILLE
Ingredients
Serves 6
1 medium-sized spaghetti squash
sea salt and freshly ground black pepper
¼ cup (60 ml) olive oil, divided
4 green zucchini, each 10-in (25 cm) long, divided
1 medium-sized fennel bulb, trimmed, diced
1 large sweet onion, diced
2 red bell peppers, cored and diced
1 yellow bell pepper, cored and diced
1 serrano chile pepper, cored and minced
4 garlic cloves, peeled and minced
⅓ cup (75 ml) vegetable stock or tomato juice (optional)
1 cup (250 ml) fresh basil leaves, cut into thin julienne strips, divided
½ tsp (2 ml) fennel seed, crushed
2 medium-sized yellow zucchini
½ cup (125 ml) shredded Parmesan
Instructions
Preheat oven to 400 F (200 C). Position oven racks in bottom and top third of oven. Cut spaghetti squash in half lengthwise and scrape out seeds. Brush flesh with 2 tbsp (30 ml) olive oil and season generously with salt and pepper. Place cut-side up in a roasting pan just large enough to hold them side-by-side. Bake on top rack for 50 minutes or until forktender. Remove from oven and let rest at room temperature for 30 minutes. Scrape flesh with a fork to make long strands. Place strands in a large bowl. Set aside.
To make ratatouille, lightly oil a large baking sheet and set aside. Dice 2 green zucchini reserving remaining 2 for noodles. In a large bowl, combine diced zucchini with fennel, onion, peppers and garlic. Drizzle with remaining 2 tbsp (30 ml) oil and sprinkle with a little sea salt and freshly ground black pepper. Toss to evenly coat and spread out in a single layer on prepared baking sheet. Bake on bottom rack in preheated oven for 30 to 45 minutes. Stir occasionally for even roasting. Ratatouille can be made ahead and refrigerated. It is delicious hot or cold.
When ratatouille is done, place in a heavy saucepan along with stock, if using, ½ cup (125 ml) fresh basil and all the crushed fennel. Cover and keep warm.
When ready to serve, cut remaining 2 green zucchini and yellow zucchini into noodles with a spiralizer or julienne using a hand-held cutter. Add to spaghetti squash strands in bowl. Gently toss to blend. (Note: Noodles must be served immediately after cutting as they water out very quickly.) Add a quarter of the ratatouille to noodles, to coat.
Spoon into serving bowls. Top with additional ladles of ratatouille and scatter with diced tomatoes, remaining basil and fresh Parmesan.
Drink Pairings