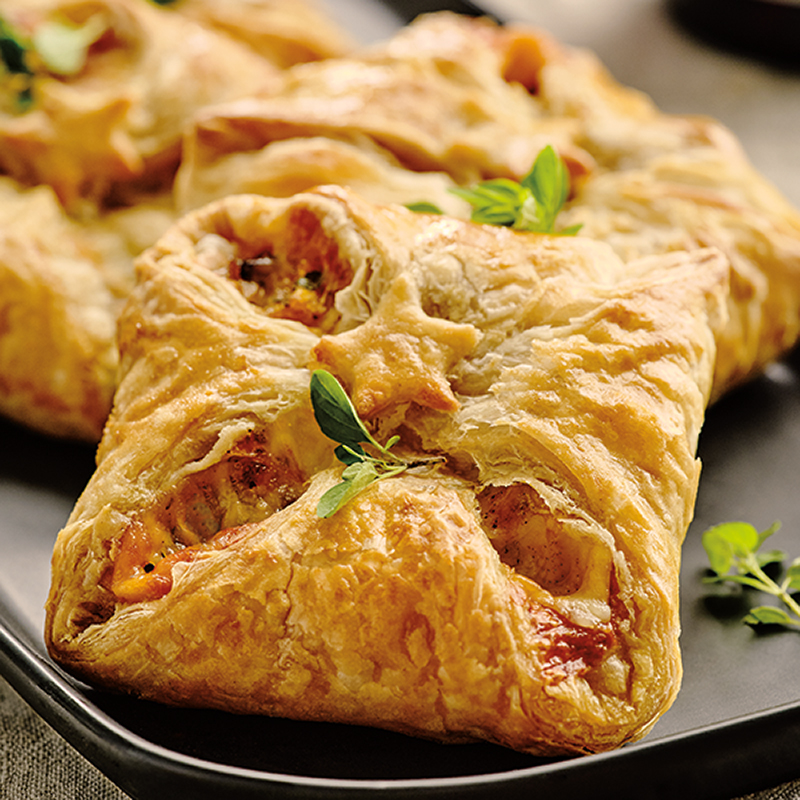 Vegetable Parcels
A delicious menu idea for your Thanksgiving table. Sure to please your vegetarian and non-vegetarian guests alike, these delicious Vegetable Parcels are individual takes on a Vegetarian Wellington.
Ingredients
Serves 8 parcels
4 cups (1 L) butternut squash, cut into ¾-in (2 cm) cubes
½ cup (125 ml) olive oil, divided
¼ tsp (1 ml) freshly ground black pepper
1 cup (250 ml) chopped onions
4 cup (1 L) portobello mushrooms, cut into ½-in (1.25 cm) cubes
1 tbsp (15 ml) chopped sage leaves
½ tbsp (7 ml) fresh thyme leaves (or 1 tsp (5 ml) dried thyme leaves)
1½ tbsp (22 ml) apple cider vinegar
2 packages frozen puff pastry, about 400 g (14 oz) each, thawed
2 tsp (10 ml) prepared mustard, divided
2 cups (500 ml) shredded Monterey Jack or Edam cheese
2 tbsp (30 ml) water, for egg wash
Instructions
Position baking rack in upper third of oven and preheat to 400 F (200 C). Line a large baking sheet with crumpled foil.
In a large bowl, toss cubed butternut squash with ¼ cup (60 ml) olive oil and salt and pepper, to taste. Spread evenly on lined baking sheet in single layer and roast until edges start to turn brown, about 30 minutes. Remove from oven and set aside.
In a large skillet, over medium heat, melt butter and continue cooking until it stops foaming and butter turns slightly darker in colour with a nutty aroma, making sure not to burn butter. Add remaining ¼ cup (60 ml) olive oil and fry onions until translucent.
Add garlic and mushrooms and continue cooking until mushrooms soften, about 3 to 4 minutes. Add roasted butternut squash, sage and thyme and stir well.
Turn up heat to high and stir constantly to allow moisture to evaporate. Drizzle apple cider vinegar and stir. Cover and remove from heat. Set aside.
On a clean surface, roll puff pastry to about ⅛-in (0.25 cm) thickness and cut eight 6-in (15 cm) squares. Reserve any extra pastry for decoration.
Brush ¼ tsp (1 ml) mustard in centre of each pastry square. Spoon ⅛ of butternut squash filling over mustard to cover approximately 3-in (8 cm) diameter in centre. Top with ¼ cup (60 ml) shredded cheese. Dampen 4 corners of pastry square. Folding each corner to centre, pinch all 4 corners together. Repeat with remaining 7 pastry squares.
Using star-shaped cookie cutter, use extra pastry to create stars, if desired, and gently press them over pinched centre of each pastry pocket.
Refrigerate parcels at least 30 minutes or up to 1 day.
When ready to use, preheat oven to 400 F (200 C).
In a small bowl, whisk together egg and water. When ready to bake, remove parcels from refrigerator and lightly brush egg wash over chilled pastry surface. Discard remaining egg wash.
Bake until golden, about 20 to 25 minutes. Allow to rest 5 minutes before serving.
Drink Pairings