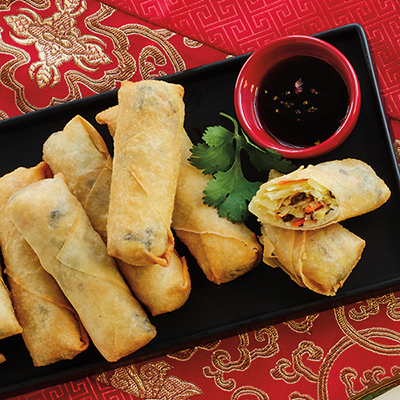 Ingredients
Serves 12 spring rolls
2 tbsp (30 ml) vegetable oil, plus extra for deep frying
½-in (1.25 cm) knob ginger, minced
½ cup (125 ml) julienned green cabbage
1 tbsp (15 ml) cornstarch
8 pieces wood ear fungus, soaked for 20 minutes in hot water, then julienned
¼ cup (60 ml) canned julienned bamboo shoots, drained
1 tbsp (15 ml) oyster sauce
3 tsp (15 ml) + 1 tbsp (15 ml) soy sauce, divided
salt and pepper, to taste
1 package 8-in (20 cm) spring roll wrappers*
1 tsp (5 ml) rice vinegar
1 tbsp (15 ml) Worcestershire sauce
2 green onions, julienned
1 handful cilantro leaves
Instructions
In a medium frying pan or wok with a lid, stir-fry garlic and ginger in vegetable oil over high heat just until fragrant, about 30 seconds. Add carrot and cabbage and stir-fry for 1 minute. Add a splash of water and cover with a lid. Cook until vegetables are just tender, about 3 to 5 minutes. Mix cornstarch with water to make a slurry. Set aside. Remove lid and continue cooking until liquid has evaporated, about 3 to 5 minutes. Add 1 tsp (5 ml) cornstarch slurry and mix until vegetables are glossy looking. Set remaining slurry aside. Transfer vegetables to a medium mixing bowl and allow to cool to room temperature, then refrigerate for 1 hour, until vegetables are cold.
Remove cooled vegetables from fridge and mix in wood ear fungus, bamboo shoots, oyster sauce, 1 tsp (5 ml) soy sauce, sesame oil and salt and pepper to taste.
When ready to roll, stir remaining cornstarch slurry. Place 1 spring roll wrapper on a flat surface, so it looks like a diamond, with a corner pointing towards you. Spoon about 2 tbsp (30 ml) filling on wrapper corner closest to you.
Fold wrapper away from you and over filling, then fold right and left corners towards the centre, over the filling. Continue rolling, away from you, until spring roll looks like an open envelope. Dip your finger into cornstarch slurry and paint top edges with it, like an envelope seal. Finish rolling spring roll away from you and press gently to seal. Repeat with remaining filling and wrappers.
At this point, spring rolls can either be cooked, or frozen for up to 1 month. To freeze, arrange in a single layer on a parchment-lined baking sheet and freeze overnight, then transfer to a freezer bag. Spring rolls must be fried from frozen; do not defrost before frying.
To fry spring rolls, fill a small or medium pot with 2 to 3-in (5 to 8 cm) vegetable oil. Heat oil over medium heat until it reaches 325 F (170 C).
Fry spring rolls in small batches, ensuring they do not touch, or they will stick together. Roll spring rolls over while frying to brown evenly on all sides. Fry until golden brown; time will vary depending on size of pot, but filling is already cooked, so you are just looking for colour and ensuring filling is hot. Once done, remove to a paper towel to drain, and repeat with remaining spring rolls.
To make dipping sauce, in a small bowl, mix together remaining soy sauce, rice vinegar, Worcestershire sauce and sugar. Serve spring rolls with dipping sauce and garnish with green onion and cilantro.
* One package of spring roll wrappers usually contains 24. Recipe only uses 12; however, extras are useful in case a wrapper breaks when rolling.
Drink Pairings