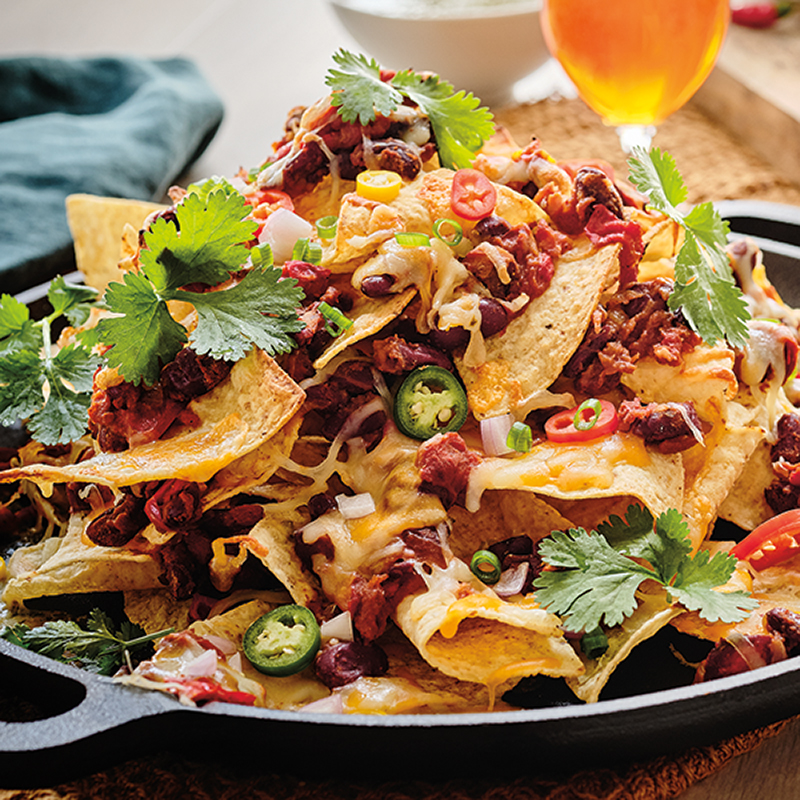 VEGETARIAN CHILI NACHOS TEX-MEX STYLE
Relax this winter with this delicious chili recipe.
Ingredients
Serves 4 to 6
2 tbsp (30 ml) vegetable oil
2 red bell peppers, chopped
1 tsp (5 ml) chili powder
2 tsp (10 ml) garlic powder
2 tbsp (30 ml) tomato paste
1 x 28 oz (796 ml) can diced tomatoes
1 x 14 oz (398 ml) can pinto beans, drained and rinsed
1 x 14 oz (398 ml) can kidney beans, drained and rinsed
4 oz (125 g) tortilla chips
12 oz (340 g) Tex Mex or Mexican blend shredded cheese
1 small jalapeño pepper, thinly sliced
1 small red chili, thinly sliced
2 green onions, thinly sliced
1 handful cilantro leaves
1 cup (250 ml) tomatillo salsa
1 cup (250 ml) sour cream
Instructions
In a heavy-bottomed saucepan over medium heat, sauté red bell peppers, onion, garlic and spices in vegetable oil until tender. Add tomato paste, diced tomatoes, salt and pepper. Simmer over low heat for 30 minutes. Check seasoning and adjust (remember that chips are salted).
Preheat oven to 375 F (190 C). On a parchment-lined baking sheet, layer tortilla chips, chili and cheese. Repeat until you have used all ingredients. Bake until cheese in middle has melted, about 10 to 12 minutes.
Garnish with jalapeño pepper, red chili, green onions and cilantro. Serve with salsas and sour cream.
Drink Pairings