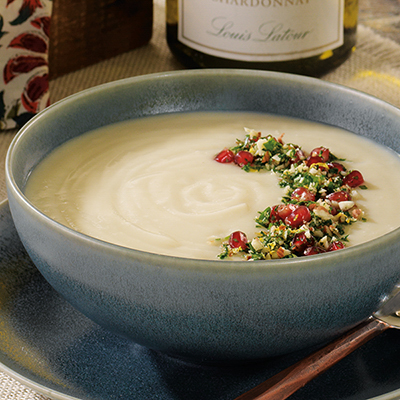 Ingredients
Serves 6
2 tbsp (30 ml) grapeseed oil
5 parsnips, peeled and chopped into chunks
1 large fennel bulb, trimmed and chopped into chunks
1 large yellow onion, chopped
2 tsp (10 ml) salt, plus extra
½ tsp (2.5 ml) fennel seeds
½ cup (125 ml) chopped fresh flat leaf parsley, for garnish
¼ cup (60 ml) pomegranate seeds, for garnish
1 tsp (5 ml) lemon zest, for garnish
2 tbsp (30 ml) raw almonds, finely chopped, for garnish
1½ cups (375 ml) unsweetened almond milk
Instructions
In a large saucepan or Dutch oven over medium-high heat, heat oil. Add parsnips, fennel, onion, salt and fennel seeds. Reduce heat to medium and cook, stirring often, until onion has softened, about 6 to 8 minutes.
Add water and bay leaf. Bring soup to a simmer, reduce heat to medium-low and cover with a lid. Simmer until parsnips are very tender, about 30 minutes. Remove saucepan from heat and allow to cool for 10 minutes.
Meanwhile, make garnish. In a medium bowl, stir together chopped parsley, pomegranate seeds, lemon zest, chopped almonds and a pinch of salt. Set aside.
In a blender, purée soup in 2 batches, adding half of the almond milk to each batch. Return soup to saucepan, and heat over medium-low to warm through. Serve garnished with some parsley mixture. Serve warm.
Drink Pairings