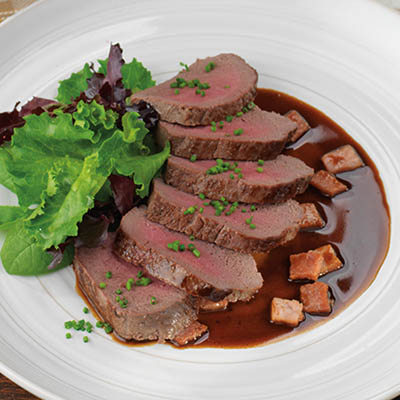 VENISON WITH RED-EYE GRAVY
Ingredients
Serves 4
salt and freshly ground pepper, to taste
1½ tsp (7 ml) grapeseed oil
2 tbsp (30 ml) unsalted butter, divided
6 oz (180 g) thick-cut country ham, diced
¾ cup (175 ml) strong black coffee
¾ cup (175 ml) low-sodium chicken stock
2 tsp (10 ml) brown sugar
4 cups (1 L) mixed baby winter greens
1 tsp (5 ml) white wine vinegar
1 tsp (5 ml) hazelnut oil
1 tbsp (15 ml) finely chopped chives, to garnish
Instructions
Preheat oven to 450 F (230 C). Generously season venison with salt and pepper. Set aside at room temperature while oven preheats.
Heat oil in a cast-iron skillet over medium-high heat. Add venison and sear, browning on all sides, about 5 minutes total. Add 1 tbsp (15 ml) butter along with thyme, allowing butter to melt. Baste venison with butter before transferring skillet to oven. Roast venison until a meat thermometer registers 125 F (52 C), about 7 to 10 minutes. Transfer venison to a cutting board and allow to rest while preparing red-eye gravy.
Place same skillet used to cook venison over medium-high heat. Discard thyme sprigs and add ham, sautéing until it starts to brown, about 2 to 3 minutes. Transfer ham to a plate. Pour coffee into skillet and, using a wooden spoon, scrape up any brown bits. Stir in stock and sugar and cook at a simmer, stirring occasionally, until reduced to about a ½ cup (125 ml). Remove skillet from heat and whisk in remaining 1 tbsp (15 ml) butter before stirring in reserved ham.
Just before serving, place greens in a large bowl. Season with salt and pepper to taste, then drizzle with white wine vinegar and hazelnut oil. Toss to combine.
Slice venison into ½-in (1.25 cm) slices and transfer to serving plates. Pour some red-eye gravy over top and garnish with chives. Place some salad alongside venison and serve.
Drink Pairings