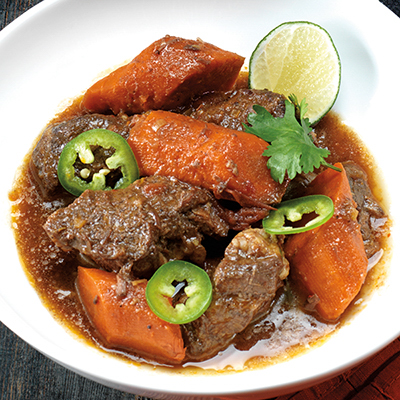 Ingredients
Serves 6
3 lb (1.5 kg) beef brisket or boneless beef short ribs, cut into 2-in (5 cm) chunks
2 tbsp (30 ml) vegetable or coconut oil
1½ whole stalks lemongrass, crushed
2 bird's eye chilies, to taste
2 ginger slices, about 1-in (2.5 cm)
3 tbsp (45 ml) tomato paste
2 cups (500 ml) coconut water
6 large carrots, cut into 2-in (5 cm) chunks
4 stalks green onion, chopped, for garnish
¼ bunch cilantro, washed and picked, for garnish
2 limes, cut into quarters, to serve
baguette or jasmine rice, to serve
1-in (2.5 cm) piece of ginger, chopped
½ stalk lemongrass, chopped
2 tsp (10 ml) Malay curry powder
2 tsp (10 ml) five-spice powder
2 tbsp (30 ml) fish sauce
Instructions
In a large bowl, add beef and oxtails to prepared Marinade. Allow to marinate for at least 2 hours. Overnight is ideal.
In a large heavy-bottomed pot or Dutch oven over medium- high heat, warm oil. Add onions and spread over bottom of pot. Let onions char slightly, do not stir until they are charred. Add marinated beef and stir, continue cooking, stirring occasionally until beef has started to brown slightly and aromatics are fragrant.
Add star anise, lemongrass, cinnamon, chilies, ginger, garlic, tomato paste, tomatoes, soy sauce, fish sauce, coconut water and water. Bring to a boil, then reduce heat to a simmer. Cover and cook for about 3 hours, or until beef is tender.
Remove lid and add carrots. Adjust seasoning, as desired. Simmer, uncovered, for another 45 minutes to 1 hour, or until carrots are tender. Garnish stew with green onion and cilantro. Serve with limes and warm baguette or jasmine rice.
To make MARINADE (make ahead): In a bowl, mix all ingredients together. Refrigerate until ready to use.
Drink Pairings