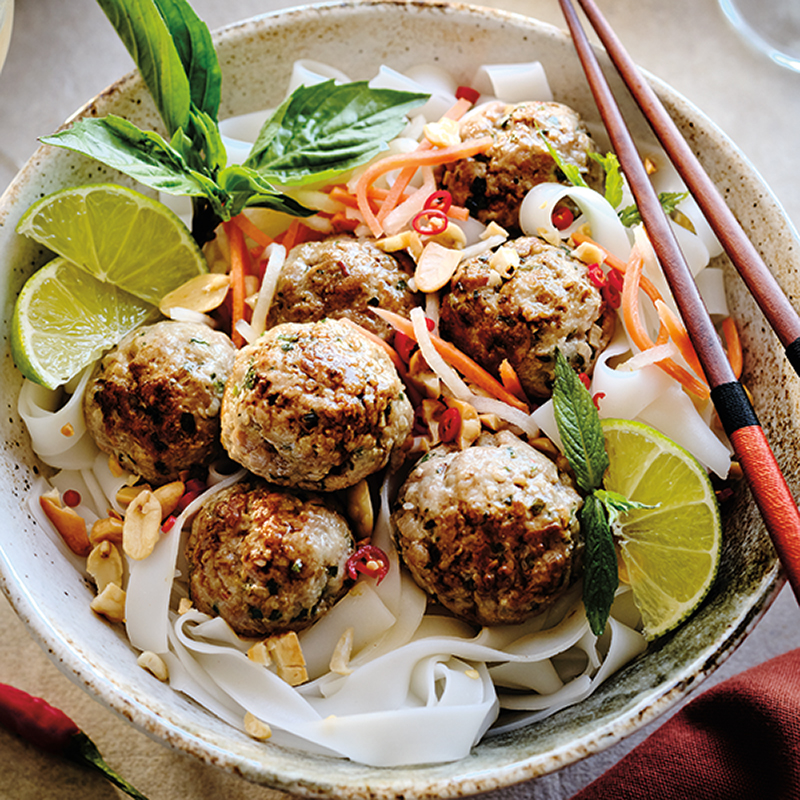 Vietnamese Sticky Pork Meatball Bowl
With colder weather rolling in, autumn meals should be both warm and filling, a requirement met by meatballs.
Ingredients
Serves 4
½ cup (125 ml) unseasoned rice vinegar
1 tbsp (15 ml) granulated sugar
½ cup (125 ml) daikon radish, cut into matchsticks
½ cup (125 ml) carrot, cut into matchsticks
¼ tsp (1 ml) toasted sesame oil
¾ tsp (4 ml) finely grated lime zest, divided
1 tbsp (15 ml) minced ginger
2 lemongrass stalks, tough outer leaves removed, finely chopped
2 tbsp (30 ml) chopped fresh cilantro leaves and tender stems
2 tbsp (30 ml) chopped fresh chives
1 red Thai chili, seeded, finely chopped
4 tsp (20 ml) fish sauce, divided
2 tbsp (30 ml) clover honey
2 tbsp (30 ml) low sodium soy sauce
1 package (454 g) thick rice noodles
3 tbsp (45 ml) grapeseed oil
Mint leaves, Thai basil leaves, chopped peanuts and lime wedges, to serve
Instructions
To make pickled vegetables, in a small saucepan, bring rice vinegar, sugar and salt to a boil. Remove saucepan from heat, stir in daikon, carrot, sesame oil and ¼ tsp (1 ml) lime zest and let cool to room temperature. This pickled vegetable mix may be made up to 2 days ahead and refrigerated in an airtight container along with its pickling liquid.
To make meatballs, in a large bowl, stir together pork, garlic, ginger, lemongrass, cilantro, chives, Thai chili and 2 tsp (10 ml) fish sauce until well combined. Roll about 1½ tbsp (22 ml) pork mixture into a ball and set aside on a plate. Repeat with remaining pork mixture.
In a small bowl, whisk together honey, soy sauce, remaining 2 tsp (10 ml) fish sauce and ½ tsp (2.5 ml) lime zest. Set aside.
Cook rice noodles according to package directions and set aside.
Heat oil in a large frying pan over a medium heat. Working in batches, if necessary, add meatballs and cook, turning occasionally, until cooked through, about 8 minutes. Place hot meatballs in a large bowl and drizzle with reserved honey glaze mixture. Gently toss to coat.
When ready to serve, divide rice noodles among serving bowls and drizzle with a little of the pickling liquid from pickled vegetables. Top with meatballs, a drizzle of honey glaze and a tangle of drained pickled vegetables. Garnish with a generous scattering of herbs and peanuts. Serve with lime wedges, if desired.
Drink Pairings