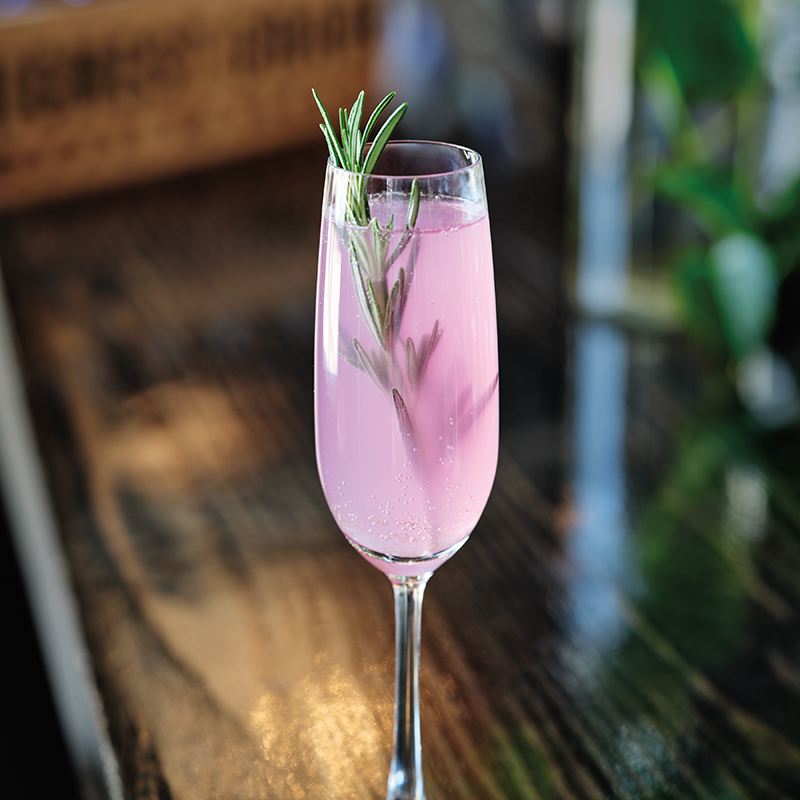 Ingredients
Serves Serves 1
1 oz (30 ml) Empress 1908 Gin
½ oz (15 ml) Rhubarb Juice*
½ oz (15 ml) Rosemary Syrup**
¼ oz (7 ml) St-Germain Elderflower Liqueur
4 oz (120 ml) Fitzpatrick Fitz Brut
rosemary sprig, for garnish
Instructions
In a steel cocktail shaker, combine gin, Rhubarb Juice, Rosemary Syrup and St-Germain. Add ice, cover and shake until outside of shaker becomes frosty, about 15 seconds. Double strain into a flute or Champagne glass. Slowly top with sparkling wine. Using a lighter or culinary torch, carefully burn edges of rosemary leaves and add sprig to glass.
* If possible, Thiago recommends buying fresh rhubarb and juicing it at home. Or, chop up a 6-in (15 cm) stalk of rhubarb and place in a blender. Add water to cover and blend until smooth, then fine strain the liquid and discard the pulp.
** To make Rosemary Syrup, chop 2 sprigs rosemary and add to a small saucepan with 2 cups (500 ml) water. Bring to a boil and keep boiling for about 30 minutes. Remove from heat, then add 12 oz (340 g) sugar and stir until dissolved. Let cool, then strain out and discard rosemary. Makes about 2 cups (500 ml). Will keep for up to 2 weeks in an airtight container in refrigerator.
Featuring