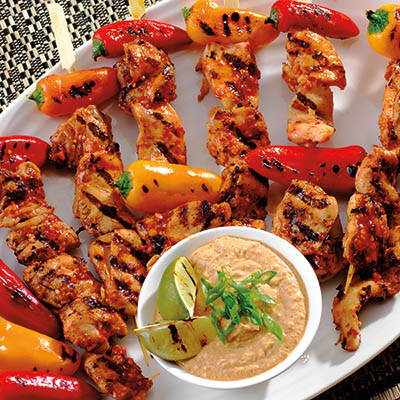 VODKA AND SZECHUAN-MARINATED CHICKEN SKEWERS SERVED WITH SPICY PEANUT SAUCE
Ingredients
Serves 6 (makes 12 skewers)
2 tbsp (30 ml) peanut or vegetable oil
1 tsp (5 ml) Szechuan peppercorns
2 to 3 whole dried chili peppers, destemmed and each cut into 4 to 5 pieces
1 tbsp (15 ml) minced ginger
2 tbsp (30 ml) garlic chili sauce1
2 tbsp (30 ml) fermented bean paste
2 lbs (1 kg) mix of boneless, skinless chicken thighs and breast meat, cut into 2-in (5 cm) x 1-in (2.5 cm) chunks
12 to 18 small sweet whole baby peppers
12 x 8-in (20 cm) skewers, if using wooden, soak overnight in water
½ cup (125 ml) peanut butter
2 tbsp (30 ml) sesame oil
2 tbsp (30 ml) unseasoned rice vinegar
1 tbsp (15 ml) each, chopped garlic and chopped ginger
½ tsp (5 ml) red chili pepper flakes or 2 tsp (10 ml) sriracha
2 tsp (10 ml) hoisin sauce
2 tbsp (30 ml) lime juice
½ to 1 cup (125 to 250 ml) plain yogurt
Instructions
In a small skillet over medium heat, heat oil and peppercorns. When peppercorns start sizzling, cook them for another 2 minutes, until dark brown, pungent and aromatic. If the oil starts to smoke, lower heat. Remove peppercorns with a straining ladle and discard.
Add chili peppers and cook over low heat until colour darkens, about 30 seconds. Add ginger and garlic and sauté quickly. Add garlic chili sauce, fermented bean paste and sugar. Stir over low heat to mix well and fragrant, about 1 minute. Remove from heat and allow to cool. Transfer to a medium mixing bowl and whisk in vodka until well blended.
Pour marinade over chicken and mix well. Transfer to a resealable plastic bag, seal and place into a shallow baking dish. Marinate at room temperature for 30 minutes, turning bag occasionally (or marinate refrigerated overnight for spicier flavour). Marinade can also be used for pork.
Drain chicken, discard excess marinade. On the skewers, alternately thread chicken pieces with whole baby sweet peppers. Place on a preheated grill over medium-high heat. Grill for 15 minutes or until cooked through. Serve with Spicy Peanut Sauce.
To make SPICY PEANUT SAUCE: In a blender or food processor, blend all ingredients until smooth. Initially add ½ cup (125 ml) plain yogurt and add remaining if too thick. If a runnier dip is desired, add a bit of water until desired consistency. Makes about 2 cups (500 ml).
Drink Pairings