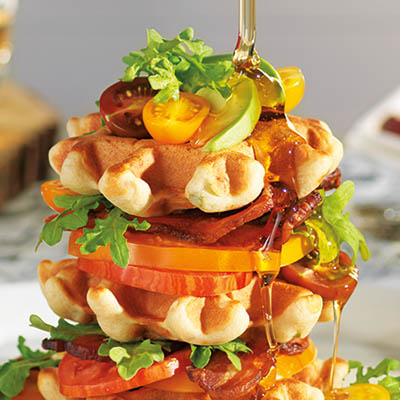 WAFFLE BLT STACK WITH BOURBON MAPLE SYRUP
Ingredients
Serves 4
1 cup (250 ml) light buckwheat flour
1½ tsp (7 ml) baking powder
¼ tsp (1 ml) salt, plus extra for seasoning
¾ cup (175 ml) Greek yogurt
2 tbsp (30 ml) grapeseed oil
2 green onions, trimmed and white and green part finely sliced
3 heirloom tomatoes, sliced
freshly ground pepper, to taste
8 slices, thick-cut, cooked bacon, each strip halved
1 cup (250 ml) baby arugula
1 avocado, peeled, pitted and thinly sliced
1 cup (250 ml) pure maple syrup
1 tsp (5 ml) vanilla extract
Instructions
Preheat waffle maker according to manufacturer's instructions.
In a large bowl, whisk together buckwheat flour, baking powder and salt.
In a separate bowl, whisk together egg, yogurt, milk, oil and green onions until well combined. Pour into flour mixture and stir together with a wooden spoon. The batter will be quite thick.
Pour ¼ cup (60 ml) batter into each section of preheated waffle iron and cook until golden brown and crisp, about 5 minutes. Continue cooking waffles with remaining batter until it is all used up.
To assemble, top each warm waffle with a couple of slices of tomato and season with a sprinkle of salt and pepper. Layer tomatoes with a strip or two of bacon and some arugula. Stack two or three dressed waffles on top of each other on a serving plate and garnish with some sliced avocado and a drizzle of Bourbon Maple Syrup.
To make BOURBON MAPLE SYRUP: In a small saucepan, over medium heat, gently stir together maple syrup and bourbon. Bring to a simmer and allow to cook for 1 minute. Remove saucepan from heat and stir in vanilla. Transfer to a serving container and serve while warm. Makes about 1 cup (250 ml).
Drink Pairings