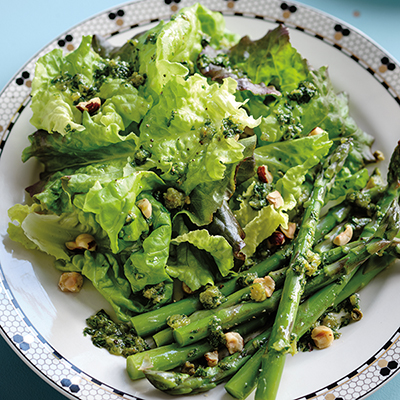 Ingredients
Serves 4
2 heads red and green butter lettuce
20 medium spears asparagus, ends trimmed
3½ tbsp (55 ml) white balsamic vinegar, divided
¼ cup (60 ml) golden raisins
3 tbsp (45 ml) capers, drained and rinsed
¾ cup (175 ml) packed Italian parsley leaves
⅓ cup (75 ml) light olive oil
sea salt and black pepper, to taste
¼ cup (60 ml) coarsely chopped toasted hazelnuts
Instructions
Trim lettuce and choose only the tender inner leaves. Wash, dry and carefully wrap in a clean kitchen towel. Refrigerate to crisp.
Bring a large pot of salted water to boil. Add asparagus and return to a boil. Cook for about 2 minutes, or until just tender but still al dente. Immediately drain in a colander and run under very cold water to stop cooking. Pat dry and set aside.
In a small bowl, combine 2 tbsp (30 ml) white balsamic, 2 tbsp (30 ml) water and raisins and allow to sit for 10 minutes.
Place garlic into a mini food processor and pulse to mince. Add capers and parsley and process to a coarse paste. Add raisin and balsamic mixture and pulse until blended. Add oil and salt and pepper to taste and pulse to combine, keeping mixture somewhat coarse. Season to taste and transfer to a small jar.
Divide chilled lettuce between 4 salad plates.
Heat a large heavy saucepan over medium heat. Melt butter, swirling pan occasionally, watching until it begins to turn a medium brown with a nutty aroma, about 3 minutes. Remove from heat and immediately stir in 1½ tbsp (22 ml) white balsamic. Place asparagus in a single layer on bottom of pan and toss to coat until just heated through. Season to taste and plate bundles of asparagus alongside lettuce.
Spoon vinaigrette over lettuce and asparagus. Drizzle any remaining balsamic butter from the pan over salads and top with hazelnuts. Season to taste and serve immediately with remaining dressing on side.
Drink Pairings