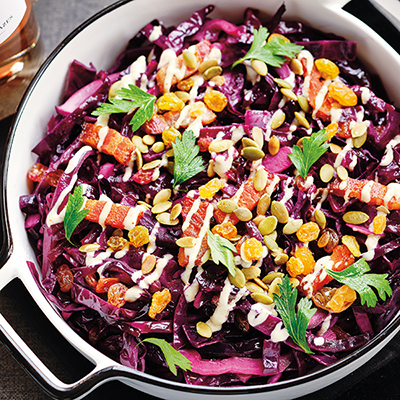 WARM BRAISED RED CABBAGE SALAD WITH TAHINI SAUCE
Ingredients
Serves 4 to 6
½ medium white onion, sliced
1 small head red cabbage, halved, core removed, sliced vertically
¼ cup (60 ml) apple cider vinegar
1 medium orange, juice only
2 tbsp (30 ml) golden raisins
salt and pepper, to taste
2 tbsp (30 ml) pumpkin seeds, toasted
1 tbsp (15 ml) chopped parsley leaves
1 tbsp (15 ml) grainy mustard
2 to 4 tbsp (30 to 60 ml) water, to taste, plus extra as needed
salt and pepper, to taste
Instructions
In a large cast iron pan or Dutch oven with a lid, cook bacon over medium-high heat until golden brown and crispy, about 6 to 8 minutes. Remove from pan and set aside. Reserve 1 tbsp (15 ml) bacon fat in pan and discard the rest.
In same pan or Dutch oven, heat olive oil over medium-high heat. Sauté onion for 5 minutes, until soft, then reduce heat to medium-low and add garlic, butter and cabbage. Sauté for 5 minutes, until cabbage is glossy.
Add vinegar, orange juice and raisins. Season with salt and pepper and cover with lid. Cook for 10 to 12 minutes, stirring occasionally, until cabbage is soft and liquid has fully reduced. Remove from heat and set aside.
To make Tahini Sauce, in a small bowl, whisk together tahini, garlic and mustard. Add water, 1 tbsp (15 ml) at a time, until creamy but not too runny.
Transfer cabbage to a serving dish and drizzle with Tahini Sauce. Garnish with bacon, pumpkin seeds and parsley.
Drink Pairings