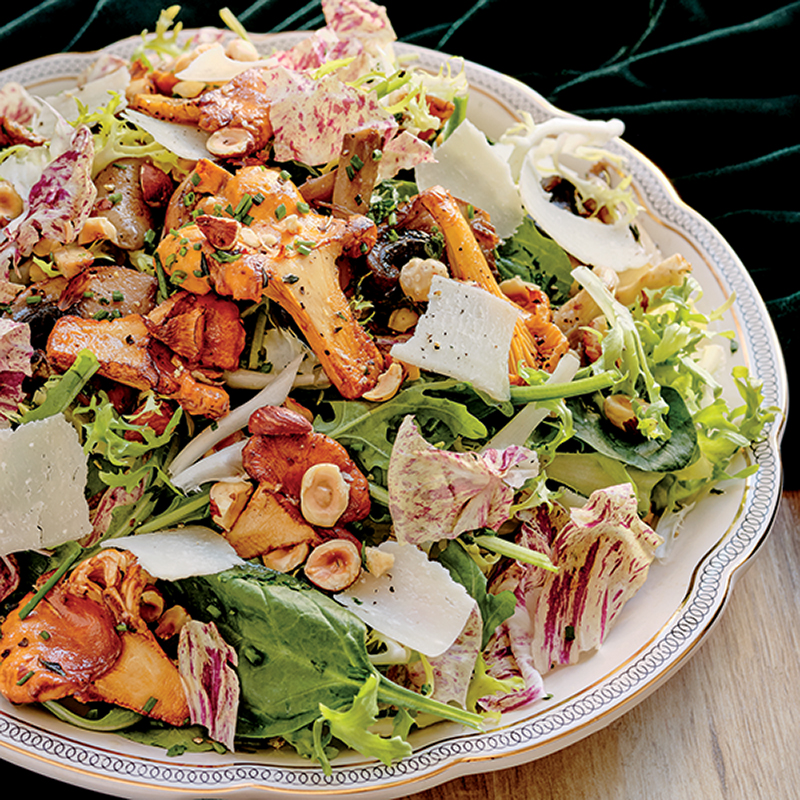 Warm Mixed Mushroom Salad with Hazelnuts & Pecorino
Ingredients
Serves 4 - 6
2 tbsp (30 ml) finely minced shallot
3 tbsp (45 ml) sherry vinegar
sea salt and freshly ground black pepper, to taste
9 tbsp (135 ml) olive oil, divided
1 lb (500 g) assorted mushrooms, such as chanterelle, oyster and cremini, cleaned and roughly chopped into 1½-in (3.75 cm) pieces, divided
2 tbsp (30 ml) unsalted butter, divided
2 tsp (10 ml) fresh thyme leaves, divided
¼ cup (60 ml) thinly sliced shallot
6 large handfuls mixed greens, such as radicchio, spinach and/or frisée, washed, dried and chilled
½ cup (125 ml) packed flat leaf parsley leaves, finely chopped
3 tbsp (45 ml) thinly sliced chives
¼ lb (125 g) block Pecorino Romano or Parmesan Reggiano
½ cup (125 ml) toasted hazelnuts, coarsely chopped
Instructions
In a small bowl, mix together shallot, vinegar and a couple large pinches of salt and pepper to make vinaigrette. Let sit for 10 to 15 minutes, then whisk in 5 tbsp (75 ml) olive oil and set aside.
Heat a large heavy-bottomed sauté pan over high heat for about 2 minutes, or until very hot. Add 2 tbsp (30 ml) olive oil and 1 tbsp (15 ml) butter to pan. When butter foams, scatter half the mushrooms into pan. Season with 1 tsp (5 ml) thyme and a generous amount of salt and pepper. Sauté for about 5 minutes, stirring occasionally, adjusting heat from high to medium as necessary. Mushrooms should be tender and a little crispy. Transfer cooked mushrooms to a plate and repeat with remaining oil, butter, mushrooms and thyme. When second batch is done, add first batch back to pan. Cook for 1 to 2 more minutes to heat thoroughly, then toss in sliced shallots and cook, stirring, for about 2 more minutes.
Meanwhile, in a large bowl, combine mixed greens, parsley and chives. Spoon hot mushrooms over salad. Return pan to stove over medium heat and add ¾ of vinaigrette, swirling and scraping up any bits that may remain from mushrooms, about 1 to 2 minutes. Reserve remaining ¼ of vinaigrette for final seasoning as needed. When vinaigrette is hot, immediately pour it over salad and toss to coat leaves and mushrooms. Season with salt, pepper and any remaining vinaigrette to taste, if needed.
To serve, arrange salad on a large platter. Using a vegetable peeler, shave Pecorino or Parmesan over salad and top with hazelnuts. Serve warm.
Drink Pairings