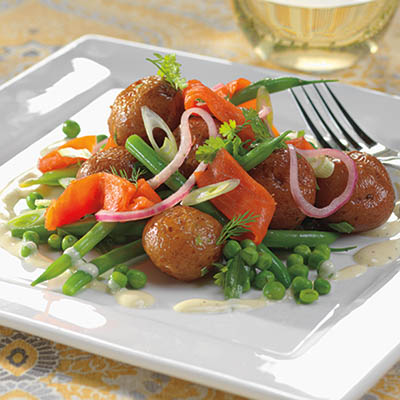 WARM NUGGET AND SMOKED SALMON SALAD
Ingredients
Serves 4 to 6
⅓ cup (75 ml) apple cider vinegar
1½ tsp (7 ml) berry sugar
¼ tsp (1 ml) salt, plus extra
1 small red onion, peeled and thinly sliced
1½ lbs (750 g) red baby potatoes
1 cup (250 ml) snap peas, trimmed
1 cup (250 ml) French beans, trimmed and cut in half on the diagonal
2 tbsp (30 ml) extra-virgin olive oil
1 tbsp (15 ml) fresh lemon juice
2 tsp (10 ml) Dijon mustard
freshly ground white pepper
1 cup (250 ml) frozen sweet peas, thawed
1 tbsp (15 ml) chopped fresh tarragon
1 tbsp (15 ml) chopped chervil or parsley leaves
2 tsp (10 ml) chopped fresh dill
¼ lb (125 g) sliced smoked salmon, cut into bite-sized julienne pieces
2 whole green onions, thinly cut on the diagonal, for garnish
lemon wedges, for garnish
Instructions
In a non-metallic bowl, combine vinegar, sugar and ¼ tsp (1 ml) salt. Stir to dissolve sugar. Add onion and set aside to pickle while preparing remainder of recipe.
In large saucepan, place potatoes with just enough water to cover. Bring to a boil. Reduce heat and simmer with lid ajar for 15 minutes, or until tender when pierced.
About 3 to 5 minutes before potatoes have finished cooking, add snap peas and French beans to saucepan. Cover and continue to cook until potatoes are done as you like and peas and beans are tender but still a little crisp.
While potatoes are cooking, in a small bowl combine sour cream, oil, lemon juice, and Dijon. Whisk to blend adding fresh pepper to taste. Add a little water if dressing seems too thick. Set aside.
When potatoes, snap peas and beans are done as preferred, drain thoroughly, shaking off as much water as possible. Place in a large bowl along with thawed sweet peas, tarragon, chervil and dill.
Drain pickled onions, blot dry and add to bowl, along with smoked salmon. Gently fold together to lightly coat.
Spoon onto serving plates and scatter green onions over top.
Give dressing another whisk and drizzle over plates. Add a little more salt and pepper to taste, if desired. Serve warm with lemon wedges.
Drink Pairings