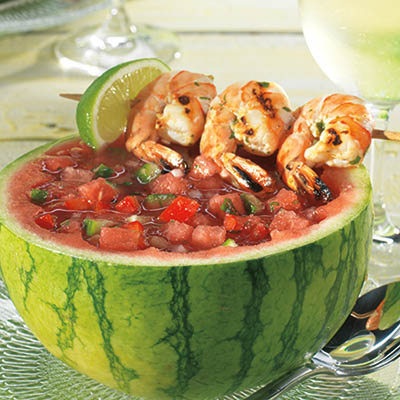 WATERMELON GAZPACHO WITH GRILLED TEQUILA-LIME SHRIMP
Ingredients
Serves 4
1 large tomato, cored, cut into 1-in (2.5 cm) dice
6 cups (1.5 L) cubed watermelon
½ jalapeño, seeded and chopped
2 tbsp (30 ml) sherry vinegar
¼ cup (60 ml) extra-virgin olive oil
1 cup (250 ml) finely diced watermelon
1 cup (250 ml) finely diced English cucumber
1 medium red bell pepper, seeded and finely diced
¼ cup (60 ml) finely diced red onion
¼ cup (60 ml) finely chopped fresh mint
¼ cup (60 ml) finely chopped fresh flat leaf parsley
½ cup (125 ml) fresh lime juice
3 to 4 sprigs cilantro, chopped
½ tsp (2 ml) cumin seeds, toasted
12 large shrimp, tail on, peeled and deveined
4 bamboo skewers, soaked in warm water for at least 1 hour
Instructions
To make GAZPACHO: In blender, purée tomato, 6 cups (1.5 L) cubed watermelon and jalapeño. Add sherry vinegar and pulse a few times until mixed. Pour into a large non-reactive bowl.
Add 1 cup (250 ml) finely diced watermelon and gazpacho ingredients and stir to combine. Cover and refrigerate until well chilled, at least 1 hour.
To make TEQUILA-LIME SHRIMP: Preheat barbecue to medium-high. In a non-reactive bowl whisk all ingredients together, except shrimp. Add shrimp and marinate for 1 hour, stirring occasionally.
Remove shrimp from marinade and drain. Discard marinade.
Thread 3 shrimp onto each skewer. Grill over preheated barbecue for 2 minutes on each side or until shrimp are opaque.
To serve, stir gazpacho before serving. Ladle into chilled serving bowls and garnish with grilled shrimp.
Drink Pairings