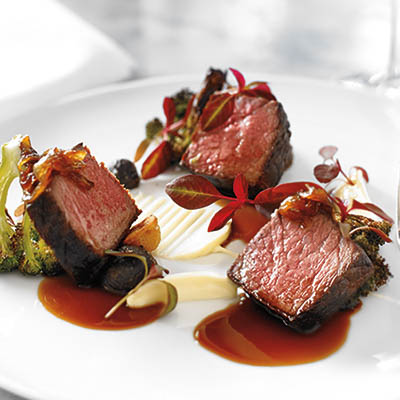 WAYGU SHORTRIB WITH BROCCOLI, BABY POTATO, TALLOW EMULSION AND ONION JAM
Ingredients
Serves 4
1 lb (500 g) boneless wagyu beef short ribs
1 lb (500 g) baby potatoes
1 cup (250 ml) olive oil, plus extra, if needed
2 tbsp (30 ml) lemon Juice
1 cup (250 ml) tallow or clarified butter
2 large yellow onions, julienned
½ cup (125 ml) granulated sugar
¾ cup (175 ml) white wine vinegar
Instructions
To make WAGYU SHORT RIBS: Using an immersion circulator (sous vide), warm a water bath to 140 F (60 C). Generously season beef with salt and pepper and tightly seal in a food saver bag such as a ziplock bag. Place meat in water bath and cook for 24 hours. Alternately, use a large Dutch oven with water and cook in the oven at 140 F (60 C) for 24 hours.
Remove from water bath and place beef, still in bag, into an ice-water bath. Once fully cooled, remove from bath and discard bag. Place beef, uncovered, on a shallow platter. Refrigerate overnight for meat to dry.
Preheat oven to 425 F (220 C). Preheat dry, oven-safe frying pan over high heat. When piping hot, add beef to dry pan and sear on all sides just until browned. Then place pan with beef into oven and bake long enough to warm the meat through, about 5 minutes.
Remove from oven and place meat on a cutting board. Let rest for 10 minutes before cutting and serving.
To make CONFIT BABY POTATO: Cut whole garlic in half to expose the cloves and place in a small saucepan with baby potatoes. Pour enough olive oil over potatoes and garlic to cover potatoes completely.
Place saucepan over medium-high heat and bring oil temperature to 194 F (90 C). Reduce heat if necessary in order to maintain oil temperature until potatoes are cooked through, about 1 hour. Remove from heat and cool potatoes in oil until they can safely be removed. Using a slotted spoon, remove potatoes from oil to a bowl and refrigerate, uncovered, until completely cooled. Once cooled, remove from fridge and cut in half.
Preheat oven to 425 F (220 C). Place potato in a hot, dry, oven-safe frying pan and lightly sear the flat sides of the cut potatoes. Once lightly seared, place pan with potatoes in oven for a couple of minutes until warmed through.
To make ROASTED BROCCOLI: Preheat oven to 425 F (220 C). Cut broccoli into pieces so that each stem has a couple of florets still attached. Place in a bowl and generously coat with olive oil and a little salt. Preheat dry, oven-safe frying pan over high heat. When piping hot, add broccoli and cook until lightly seared and begins to colour on one side. Place broccoli in oven for 5 to 6 minutes to roast until done as desired, but still a little crisp.
To make TALLOW EMULSION: Place egg yolks and lemon juice in a blender and whirl just until combined, about a few seconds. Set blender with egg mixture aside. Warm tallow in a saucepan until it reaches 155 F (68 C) on a meat thermometer. Remove from heat. With blender and egg yolks whirling at low speed, slowly add tallow bit by bit, not too quickly or the eggs will separate. Season with salt to taste.
To make ONION JAM: Sauté onions in a heavy-bottomed saucepan over medium-high heat, continuously stirring until onions start to color. Add sugar and white wine vinegar. Stew onion until liquid is almost completely reduced, resulting in a sweet and savoury Onion Jam. Transfer to a glass jar and cool before serving. Can be refrigerated in a covered container for a few days. Makes 1 cup (250 ml).
Drink Pairings