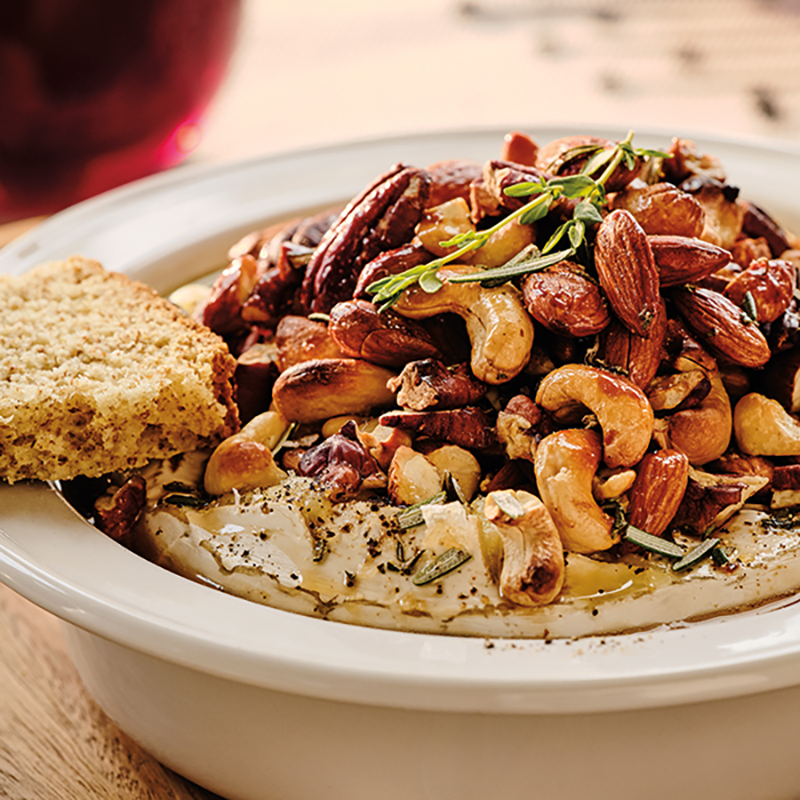 Whiskey & Nut Baked Camembert
Celebrate St. Patrick's Day with an Irish-inspired brunch!
Ingredients
Serves 8
1 x 16 oz (500 g) Camembert wheel
3 tbsp (45 ml) Irish whiskey
1 cup (250 ml) mixed nuts (such as pecans, almonds, cashews)
2 sprigs fresh rosemary, leaves removed from stem
3 sprigs fresh thyme, leaves removed from stem
3 tbsp (45 ml) maple syrup
freshly ground black pepper, to taste
Irish soda bread, for serving*
Instructions
Preheat oven to 400 F (200 C). With a neutral oil, lightly grease a small baking dish or pie plate, preferably one that can also be used for serving.
Score top of Camembert cheese, cutting about ½-in (1 cm) deep. Place in prepared baking dish, scored-side up. Drizzle whiskey over top of cheese and set aside for 10 minutes.
Meanwhile, roughly chop nuts and add to a small bowl along with rosemary leaves and thyme leaves. Toss to combine.
Top cheese with nut and herb mixture. Drizzle maple syrup over top and bake in oven until cheese is warm and softened and nuts are fragrant, about 10 to 12 minutes. Check on cheese often while it bakes. If nuts start to brown too fast, cover loosely with foil. Season warm baked cheese with a sprinkle of flaky sea salt and black pepper. Serve immediately alongside slices of Irish soda bread.
*Purchase store-bought or you can find this recipe with the Irish Coffee Soda Bread Pudding recipe.
Drink Pairings