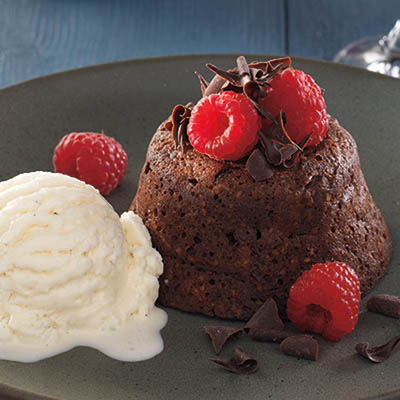 WHISKY CHOCOLATE CAKES WITH HONEY WHISKY ICE CREAM
Ingredients
Serves 8
2 cups (500 ml) whipping cream, divided
1 cup (250 ml) whole milk
½ vanilla bean, split and seeds scraped
⅓ cup (75 ml) clover honey
1 tbsp (15 ml) single malt Irish whiskey
4 oz (125 g) dried, pitted prunes
3 tbsp (45 ml) single malt Irish whiskey
½ lb (250 g) 70 percent dark chocolate, chopped
1 cup (250 ml) unsalted butter, plus extra for greasing
¼ tsp (1 ml) fine sea salt
½ cup (125 ml) granulated sugar
1 cup (250 ml) ground almonds
3 tbsp (45 ml) all-purpose flour
Instructions
To make ice cream, prepare a large ice bath with ice and water. Nestle an empty bowl in ice water bath to thoroughly chill. Add 1 cup (250 ml) whipping cream to chilled bowl and set it and the ice water bath aside.
In a heavy-bottomed saucepan, stir together remaining 1 cup (250 ml) whipping cream, milk, salt and vanilla bean seeds over medium heat until simmering. Remove from heat.
Meanwhile, to make ice cream custard base, in large bowl, whisk egg yolks and honey until thick and light in colour. While whisking constantly, slowly pour warmed cream mixture into egg yolk mixture. Transfer mixture back to saucepan and cook, stirring constantly, with a heatproof spatula over medium heat. Custard base is ready when it starts to steam and coat spatula. It will register about 170 F (77 C) on a thermometer. Remove saucepan from heat and strain custard through a finemeshed sieve set over chilled cream nestled in ice water bath. Stir both together until cooled. Remove bowl from ice bath, cover and refrigerate for 4 hours or overnight.
To freeze ice cream, stir whiskey into custard before pouring into ice cream maker and freezing according to manufacturer's instructions. Transfer to an airtight container, cover and freeze for up to 1 week.
To make CAKES: Soak prunes with whiskey for 2 hours, up to overnight, in a bowl. Drain, finely chop and set aside.
Preheat oven to 350 F (180 C). Generously grease 8 x ¾ cup (175 ml) ramekins or metal panna cotta moulds with butter and set aside.
Place chocolate, butter and salt in a heatproof bowl and set over a saucepan of simmering water. Make sure bottom of bowl does not touch water. Stir occasionally until butter and chocolate has melted and are well combined. Remove bowl from saucepan and set aside.
In a large bowl, whisk together eggs and sugar until thickened. Using a rubber spatula, fold in chocolate mixture, ground almonds and prunes. Divide mixture among ramekins, place on a baking sheet and bake until centre of cakes spring back when lightly pressed about 15 to 18 minutes. Cool on a wire rack for 5 minutes.
To serve, run a small knife around cakes to loosen. Place a serving plate on top of 1 cake and invert onto plate. Repeat with remaining cakes. Top with a scoop of Honey Whisky Ice Cream and serve immediately.
Drink Pairings